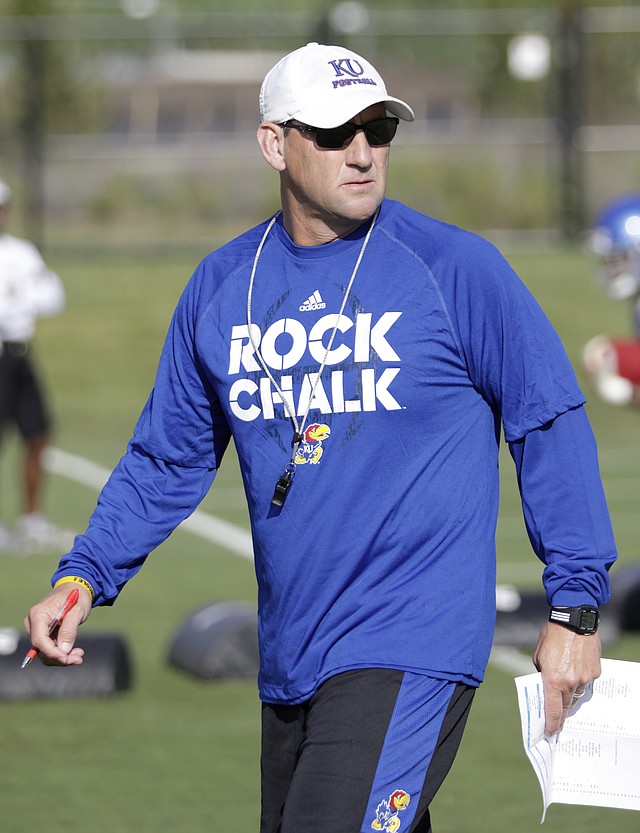 Kansas football head coach David Beaty watches a drill during the team's second practice of fall camp on Tuesday, Aug. 1, 2017.
Stories this photo appears in:

David Beaty's fourth season as head football coach at the University of Kansas officially kicks off in a little more than four weeks. Here are five storylines to track in the weeks ahead, as Beaty and his staff prepare their players for what they hope will become a breakthrough year for the long-struggling program. By Benton Smith

In late 2014, David Beaty agreed to become the head football coach at the University of Kansas, knowing the job in front of him came with various challenges. Heading into his third season in charge, the eternally optimistic Beaty feels better today than he could at any point during his first two years, when the Jayhawks went 2-22 overall.

After leading his team through a morning practice, David Beaty entered Anderson Family Football Complex Tuesday as jovial as ever. The jokes soon subsided, though, as the subject of the head coach's recent disciplinary actions permeated his media session. Beaty said junior offensive lineman Charles Baldwin "is another guy that is really having to toe the line when it comes to standards." By Benton Smith