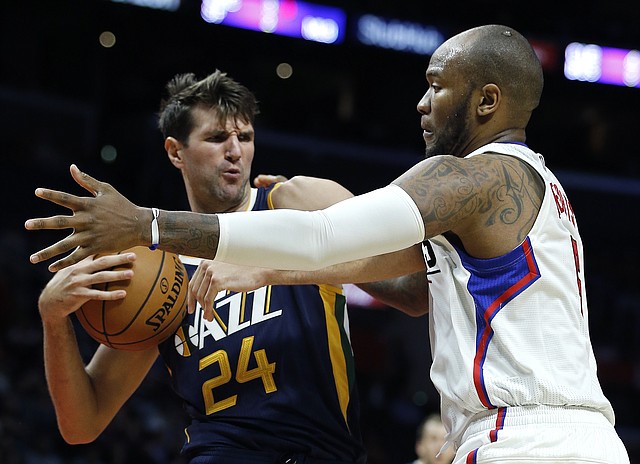 Utah Jazz center Jeff Withey (24) pulls away a rebound from Los Angeles Clippers center Marreese Speights (5) during the second half of an NBA preseason basketball game in Los Angeles, Monday, Oct. 10, 2016. The Jazz won 96-94. (AP Photo/Alex Gallardo)
Stories this photo appears in:

It's no secret that basketball has changed at both the collegiate and professional level.

Watch an NBA game these days and, especially in crunch time, you will see more teams than ever leaving their traditional 7-foot centers on the bench, favoring a small lineup instead. The league is trending toward a pace-and-space, perimeter-oriented game with as many shooters and creators as possible. So where does that leave a good, old-fashioned rim protector, such as Jeff Withey, the all-time leading shot-blocker (311) at the University of Kansas? By Benton Smith

Attorney: Ex-fiancée's claims 'salacious and patently false'
Former Kansas center Jeff Withey, now in the NBA with the Utah Jazz, has been accused by his former fiancée of domestic violence, according to various media reports. TMZ.com first reported Kennedy Summers, a former Playboy Playmate, made the allegations to the Manhattan Beach Police Department earlier this week, when Withey was in Los Angeles for his team's playoff matchup with the L.A. Clippers.