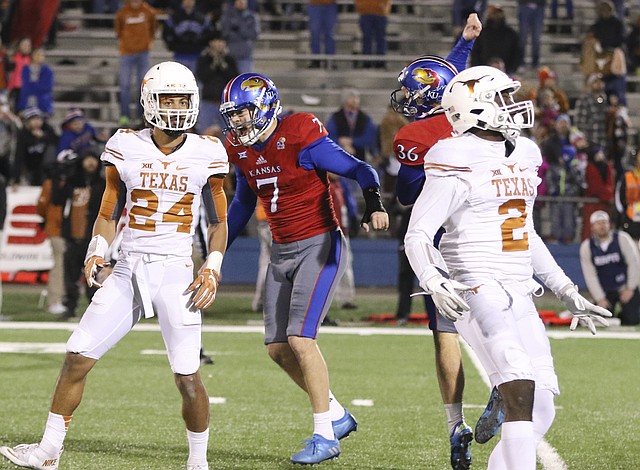 Kansas place kicker Matthew Wyman (7) and holder Cole Moos (36) go wild after Wyman's game-winning field goal in overtime against Texas on Saturday, Nov. 19, 2016 at Memorial Stadium.
Stories this photo appears in:

Nearly a year has passed since the Kansas football team, in its 2016 home finale, gave David Beaty his first Big 12 victory as a head coach, simultaneously providing a beleaguered fan base with a sense of better days down the road. In the 10 games since an overtime win against Texas at Memorial Stadium, the Jayhawks have defeated just one other team, Southeast Missouri State — a fact that can't sit well with the Longhorns, the only opponent in KU's previous 27 Big 12 games to go down in defeat. By Benton Smith

Among the 253 picks in the NFL Draft this past week, only three were used on kickers. Like many un-drafted, long-shot specialists, former Kansas kicker Matthew Wyman will attempt to break into the professional ranks the hard way. By Benton Smith

Heading into overtime Saturday, Kansas senior kicker Matthew Wyman had made 26 field goals in his four-year career. But none were as important as his game-winning, 25-yard field goal in overtime, lifting the Jayhawks to a 24-21 victory over Texas at Memorial Stadium. By Bobby Nightengale
November 19, 2016 10:16 p.m.