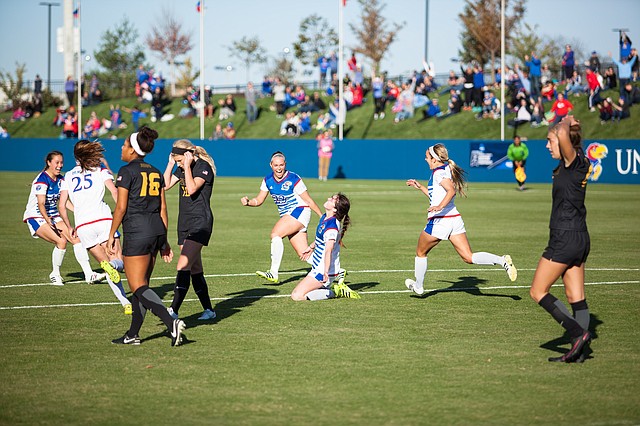 Kansas junior forward Lois Heuchan slides to the turf after scoring the game-winning goal against Missouri in the first round of the NCAA Tournament on Sunday, Nov. 13, 2016 at Rock Chalk Park. Senior Hanna Kallmaier (23) pumps her fist in the background.
Stories this photo appears in:

After finishing second in the Big 12 regular season race in 2016 and as runners up in the Big 12 tournament the year before, the Kansas women's soccer team is looking to end on a different number in 2017. By Scott Chasen

When junior Lois Heuchan fell to the turf and awaited her teammates, tears of joy flooded down her face. As the rest of the Kansas soccer team swarmed in, Heuchan disappeared under the dog pile at the top of the 18-yard box. By Shane Jackson
November 13, 2016 5:19 p.m.