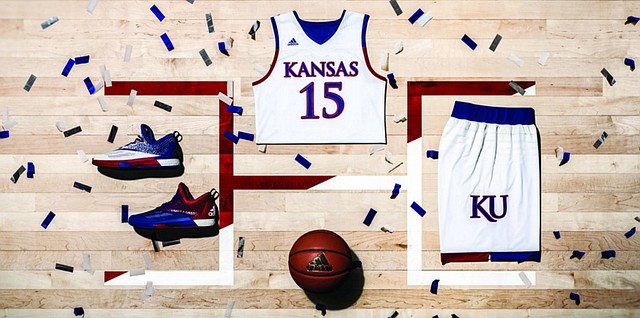 Kansas University's new white "Made in March" uniform, by adidas.
Stories this photo appears in:

The recent suspension of 13 North Carolina football players who sold exclusive, team-issued Jordan III shoes has college athletic departments across the country, including at the University of Kansas, on high alert.By Matt Tait

Finally, the ominous, sneaker-shaped cloud that has hovered over college basketball for nearly six months settled over Lawrence in an under-the-chin way on Tuesday, and it doesn't seem as if it's in any hurry to move on down the road.

When Kansas University begins its 2016 trek through the Big 12 and NCAA tournaments, the Jayhawks will do so with some new uniforms, unveiled by adidas and KU on Tuesday.