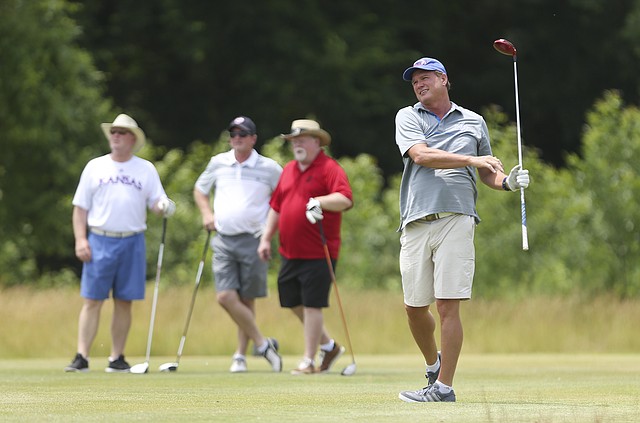 Kansas University basketball coach Bill Self watches his drive from the first hole during the Bill Self/LPRD Golf Classic, Friday, June 17, 2016, at Eagle Bend. Proceeds from the event will benefit the Wee Folk Scholarship fund.
Stories this photo appears in:

Now that Kansas basketball coach Bill Self has been elected president (of the National Association of College Basketball Coaches) what exactly does that mean to the state of college basketball?

Kansas University men's basketball coach Bill Self has one goal when he trades in his whistle for a driver and heads out to the links for a round of golf: He just wants to be one of the guys. By Matt Tait

The setting happened to be sunny, scenic Eagle Bend GC, and the event the Bill Self/Lawrence Parks and Recreation Department Golf Classic, but the subject after lunch and right before 1 p.m. tee time Friday was basketball, of course. By Gary Bedore