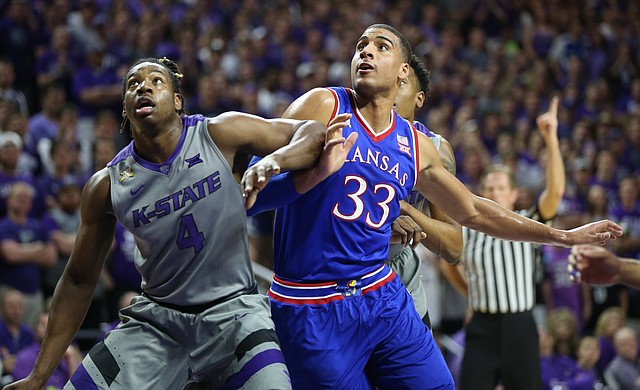 Kansas forward Landen Lucas (33) battles for position with Kansas State forward D.J. Johnson (4) during the first half, Saturday, Feb. 20, 2016 at Bramlage Coliseum in Manhattan, Kan.
Stories this photo appears in:

Because of eighth-seeded Kansas State's 75-71 victory over ninth-seeded Oklahoma State in the opening game of the Big 12 championship, the Kansas University men's basketball team will have to take down its rival from the west for a third time this season to move on in the Big 12 Conference's postseason tournament.

Fourth-year Kansas junior post man Landen Lucas played 10 minutes in the first half and K-State wide bodies D.J. Johnson and Stephen Hurt combined for five points. Lucas played three second-half minutes before fouling out and K-State's two hulks combined for 19 points. By Tom Keegan