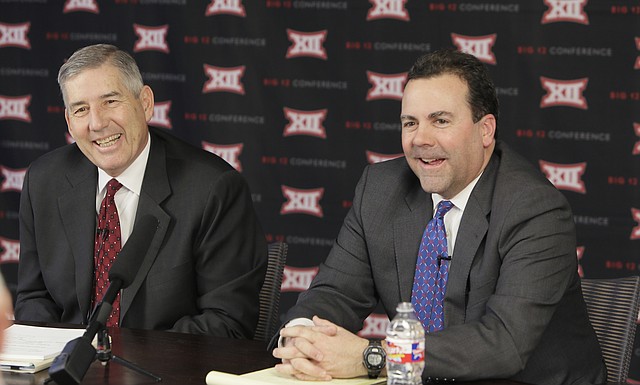 Big 12 commissioner Bob Bowlsby, left, and Kansas athletic director Sheahon Zenger laugh while taking reporters' questions after the first day of the conference's meeting Thursday, Feb. 4, 2016, in Irving, Texas. (AP Photo/LM Otero)
Stories this photo appears in:

"Power" may not be a strong enough word to describe the financial benefits of being a member of a Power 5 Conference.

Kansas athletic director Sheahon Zenger, who took over for Lew Perkins in early 2011 recently received a contract extension through June of 2021 from outgoing chancellor Bernadette Gray-Little. By Matt Tait

The smart money says that status quo will prevail at expansion discussions among Big 12 presidents/chancellors and athletic directors next week in Dallas.