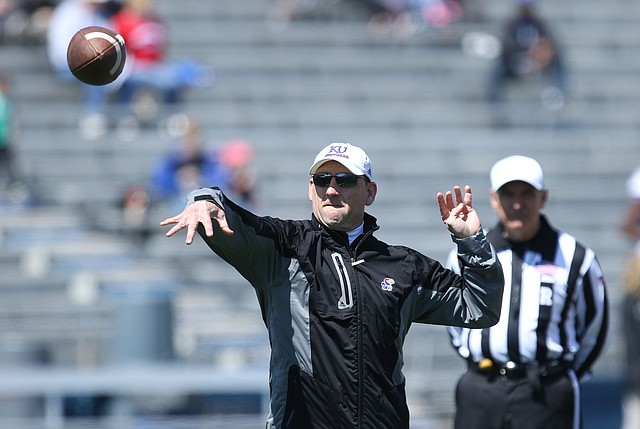 Kansas head coach David Beaty throws some passes during warmups prior to kickoff of the Spring Game on Saturday, April 9, 2016 at Memorial Stadium.
Stories this photo appears in:

Every time Kansas football coach David Beaty starts discussing quarterbacks, he can't seem to stop himself from rattling off the qualities he most enjoys about four or five of the Jayhawks he works with every day. By Benton Smith

Thursday marked the final spring practice of the 2016 season for the Kansas University football program and, after finishing the spring semester and surviving finals, the Jayhawks will be given back to strength and conditioning coach Je'Ney Jackson for the summer.

Second-year Kansas football coach David Beaty made waves on the first day of spring football back in March, when he announced that he, and not offensive coordinator Rob Likens, would be calling plays for the Jayhawks this fall. Last Saturday, during the Jayhawks' annual spring game, Beaty got his first public opportunity to take a stab at calling the new offense. By Matt Tait