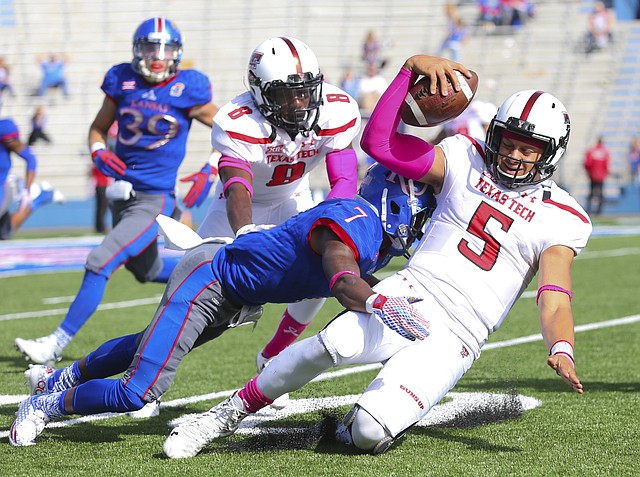 Texas Tech quarterback Patrick Mahomes (5) is hit by Kansas defensive back Derrick Neal (7) as he slides for a first down with less than a minute remaining during the fourth quarter on Saturday, Oct. 17, 2015 at Memorial Stadium.
Stories this photo appears in:
Kansas takes a 36-game road losing streak into Lubbock, which lends credence to the argument that this is not a good time for the Jayhawks to play on national TV. But what if the streak ends on national TV?
Each time David Beaty, preparing for his second football season at KU, gives an update on the progress witnessed at practices, his handy list of Jayhawks who have impressed him seems to grow. Likewise, players and assistant coaches often cite the quality and quantity of players competing for spots as a true sign of the program's improvement over the last 12 months. By Benton Smith
Kansas University wide receiver Derrick Neal admitted earlier this week that he was surprised when the KU coaching staff recently approached him about playing a few snaps on defense. But that did not prevent him from accepting the offer without hesitation. By Matt Tait