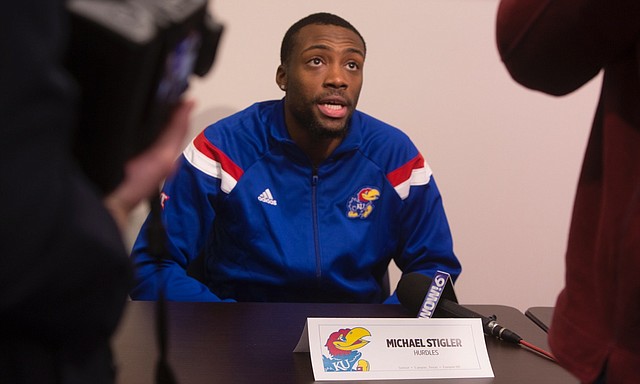 Kansas University senior hurdler Michael Stigler answers questions at the KU track team's media day on Thursday afternoon, January 29, 2015, at Rock Chalk Park.
Stories this photo appears in:

Kansas University's Michael Stigler posted a personal-record 48.44, best time in the world in 2015 and the best time for anybody in any college meet since 2011. Researchers are in the midst of trying to find a faster March time in a college meet. So far, nothing. By Tom Keegan

Seeing how the Super Bowl is just a few days away, a couple Kansas University track athletes had some advice for head coach Stanley Redwine before he stepped to the podium Thursday afternoon for the team's preseason media day at Rock Chalk Park.