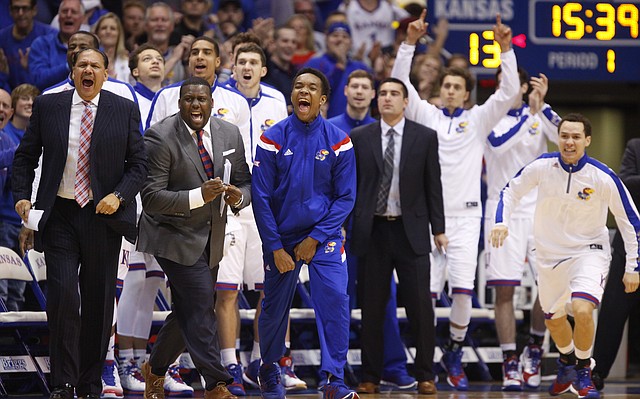 Injured Kansas guard Devonte Graham, center, and the rest of the bench react to a steal and a bucket by point guard Frank Mason during the first half against UNLV on Sunday, Jan. 4, 2015 at Allen Fieldhouse.
Stories this photo appears in:

Kansas finds positive in ability to come back
Kansas has lost two games by gargantuan margins and is 11-0 in the rest. Three of the 11 victories came when Kansas trailed at the half, including Sunday's 76-61 dusting of UNLV, which led by four at the half. Every time Kansas rebounds from a deficit, it seems, it's easier for it to do it again. By Tom Keegan

Kansas University sophomore Brannen Greene missed one three-pointer in his eight-minute stint in KU's 76-61 win over UNLV on Sunday in Allen Fieldhouse. He's been slowed by a sore neck.