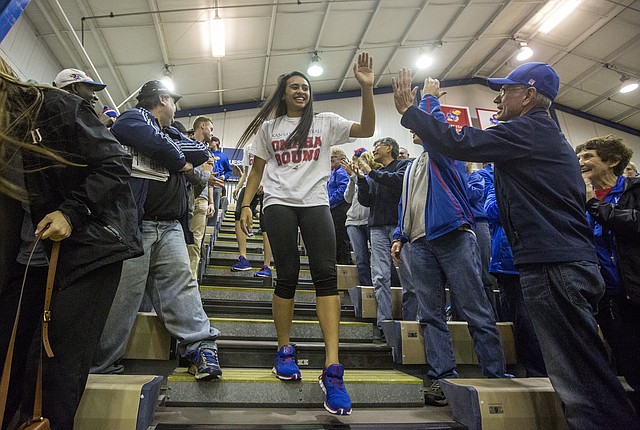 Wearing a shirt that reads "Omaha Bound" and a huge smile, Kansas University volleyball sophomore setter Ainise Havili gives out high-fives and hugs as she walks through the crowd gathered at the Horejsi Center to welcome the team back to Lawrence on Sunday. The night before in San Diego, Calif., Kansas outlasted No. 1-ranked USC in a five-set match that saw the Jayhawks come from behind to score the final six points for an upset victory and their first ever Final Four berth. The ninth-seeded Jayhawks will next face fourth-seeded Nebraska in a national semifinal match on Thursday in Omaha. The first serve is set for 8:30 p.m.
Stories this photo appears in:

Kansas University's volleyball players, who had just completed an 11-hour travel day, marched off the team bus into the Horejsi Center about 5:15 p.m. Sunday, modeling "Kansas Volleyball: Omaha Bound" T-shirts for 200 of their most zealous fans.