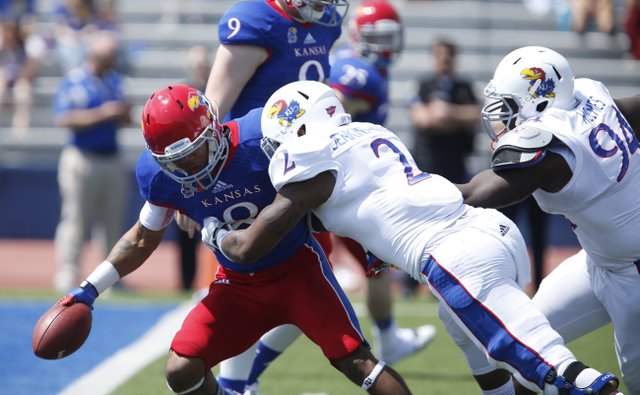 Blue Team receiver Nick Harwell is tackled for a loss by White Team defenders Marcus Jenkins-Moore and Tyler Holmes during the first half of the Kansas Spring Game on Saturday, April 12, 2014 at Memorial Stadium. Nick Krug/Journal-World Photo
Stories this photo appears in:
Former junior-college transfer Marcus Jenkins-Moore is leaving the Kansas University football program. By Matt Tait
Senior Kansas University wide receiver Nick Harwell was one of 55 players named Tuesday to the 2014 Biletnikoff Award preseason watch list by The Tallahassee Quarterback Club Foundation, Inc.
By J-W Staff reports
July 15, 2014 9:55 a.m.