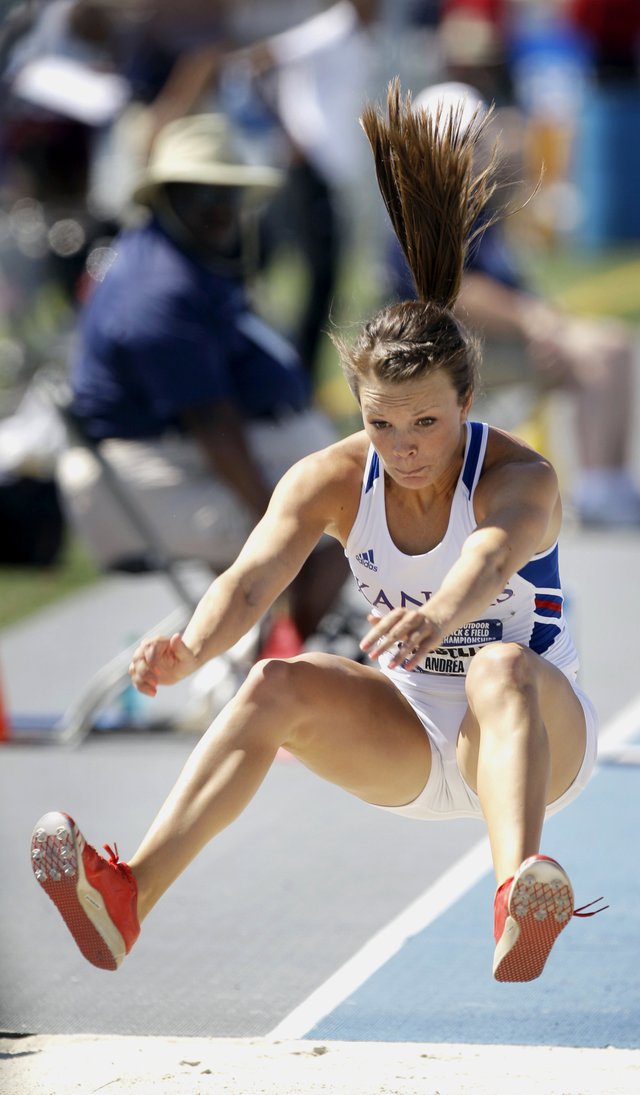 Kansas' Andrea Geubelle leaps to the pit during the women's triple jump at the NCAA outdoor track and field championships, Saturday, June 9, 2012, at Drake Stadium in Des Moines, Iowa.
Stories this photo appears in:

Kansas University All-American horizontal jumper Andrea Geubelle and the KU women's track and field team are poised to make a run at the national championship, writes Journal-World sports editor Tom Keegan.

Kansas University junior Andrea Geubelle is looking ahead to the Olympic trials in Eugene, Ore. (June 23 preliminaries, June 25 finals), where she has a realistic chance to leap long enough to earn the chance to represent the United States in London (Aug. 3 preliminaries, Aug. 5 finals).

The thrill of victory, painted all over her face with an All-American smile, never felt better for Kansas University junior triple jumper Andrea Geubelle than when she and everyone else in Drake Stadium thought she had won an NCAA Outdoor championship Saturday in the triple jump. An endless stream of tears streaming down that same face made it clear that the agony of having that title taken away when an appeal by a coach from another school was upheld after completion of the event gave her a worse feeling than she ever had experienced.