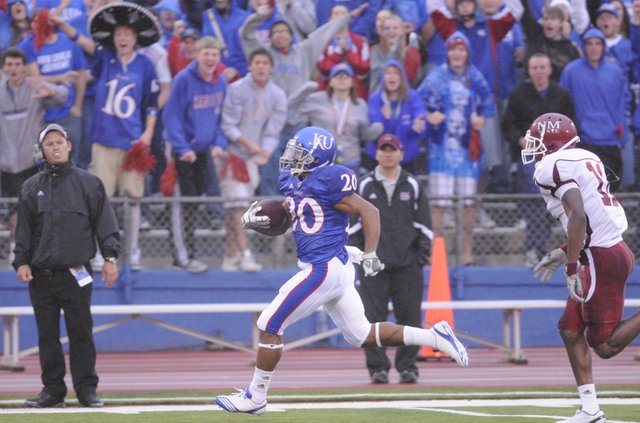 Kansas University kick returner D.J. Beshears (20) is cheered on by the student section as he breaks free for a 96-yard touchdown return in this 2010 file photo. Beshears is listed as a preseason third-team All-Big 12 selection by analyst Phil Steele.
Stories this photo appears in:

TE Tim Biere tops list with 2nd-team nod
College football analyst Phil Steele tapped six Kansas University football players to his preseason all-Big 12 teams Friday.

D.J. Beshears, Jake Laptad and Alonso Rojas honored by league's coaches
Though the Kansas University football team finished just 3-9 and won just one game in Big 12 play, three Jayhawks made enough of an impression on the league's coaches to earn All-Big 12 Honorable Mention nods.

Three touchdowns, nearly 200 total yards and big-time production as a runner, receiver and special-teams return man. Surely the performance turned in by Kansas University sophomore D.J. Beshears during the Jayhawks' 42-16 victory against New Mexico State on Saturday night was the best game of his life, right? "In college, yes," Beshears said.