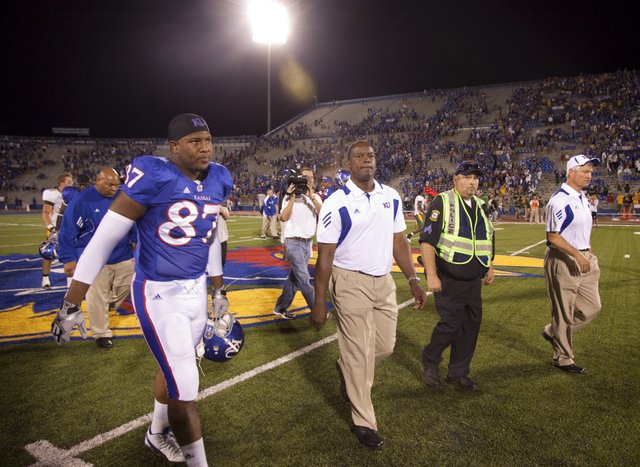 Head coach Turner Gill purses his lips as he makes his way from the field alongside tight end Bradley Dedeaux (87) and defensive coordinator Carl Torbush following the Jayhawks' 6-3 loss to North Dakota State, Saturday, Sept. 4, 2010 at Kivisto Field.
Stories this photo appears in:

A little more than 12 months ago, Kansas University football coach Turner Gill strolled out to his new team's practice fields for the first day of spring drills and tried his hardest to project that he was in control.

Jayhawks coach Gill moving on after difficult loss
Often times, after big victories, coaches will give their players a set amount of time to celebrate before requiring them to refocus and move on to the next game.

Jayhawks stunned in Gill's debut
In March, University of Northern Iowa shocked Kansas University's basketball team with an upset in the second round of the NCAA Tournament. Saturday at Memorial Stadium, a similarly scrappy North Dakota State University football team handed KU another crippling loss. Hard to believe that a three-pointer — a 32-yard field goal from NDSU kicker Ryan Jastram with 8:04 to play in the third quarter — from a Missouri Valley upstart did the Jayhawks in again.