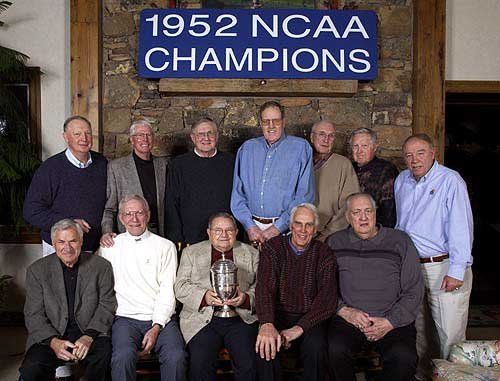 Members of KU's 1952 basketball team returned to Lawrence this
weekend to celebrate the 50th anniversary of their NCAA national
championship. They are, from left, (front row) Dean Smith, Bob
Kenney, manager Wayne Louderback, Bill Lienhard, B.H. Born, (back
row) Bill Heitholt, Everett Dye, Jerry Alberts, Clyde Lovellette,
Bill Hougland, Charlie Hoag and Allen Kelley. The team gathered at
Hougland's home Friday in Lawrence and will be honored at halftime
of today's game against Colorado at Allen Fieldhouse.

Stories this photo appears in:

Former Kansas basketball great Bill Lienhard, one of the last living members of the Jayhawks' 1952 national championship team, died Tuesday at his home in Lawrence. Lienhard turned 92 in January. By Matt Tait
By Bill Mayer Kansas had just whipped Saint Louis University 74-55 in Kansas City to win the 1952 NCAA regional basketball title. Dick Snider of the Topeka Capital and I approached Phog Allen at midcourt for some remarks.