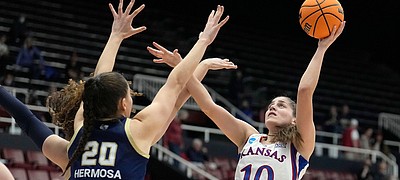 Kansas forward Ioanna Chatzileonti made an impact in the FIBA U20 Women's European Championships, which concluded over the weekend.

Name, image and likeness efforts by the University of Kansas took a big step forward on Wednesday with the announcement of a major donation, a rebranding effort and the creation of a nonprofit organization called Reaching Champions Joining Hearts (RCJH). By Matt Tait

There's a photo Bella Swedlund shares whenever anyone asks about her fondness for basketball. It's of her as a baby, during her first Easter, holding a bright orange ball instead of an egg. By Zac Boyer
By Zac Boyer
July 27, 2022 11:58 a.m.

Incoming Big 12 commissioner Brett Yormark said Kansas is "a pillar school in the conference" whose success is central to that of Big 12's amid continual conference realignment. By Zac Boyer
By Zac Boyer
July 15, 2022 5:08 p.m.

Chancellor Douglas Girod on Thursday expressed confidence Kansas will "land in a good place" as conference realignment again grips college athletics, but didn't quite rule out that place could be somewhere other than the Big 12. By Chad Lawhorn

Greece's Ioanna Chatzileonti and Danai Papadopoulou, Sweden's Sanna Strom and Hungary's Zsofia Telegdy have been chosen to represent their countries at the FIBA U20 Women's European Championship, which begins Friday.
By Zac Boyer
July 7, 2022 11:54 a.m.

The Kansas women's basketball team has conceived a significantly stronger nonconference schedule that coach Brandon Schneider hopes should better prepare the Jayhawks for the postseason.
By Zac Boyer
July 6, 2022 10:23 a.m.

Breeley Oakley, who played the last two seasons at Howard junior college in Big Spring, Texas, has joined the Kansas women's basketball team as a walk-on.
By Zac Boyer
July 2, 2022 12:10 p.m.

UCLA and USC bolting the Pac-12 for the Big Ten could be part of a tectonic shift — not just because of the schools involved but because it happened when the NCAA is looking to take a more decentralized approach to governing college athletics.
By John Marshall, Associated Press
July 1, 2022 7:01 p.m.

The first year of the athlete compensation era in college sports evolved into almost everything the NCAA didn't want when it gave the green light last summer.

Nearly a year after Texas and Oklahoma shook up the college sports landscape by deciding to leave the Big 12 for the SEC, UCLA and USC have done so again.
By Zac Boyer
June 30, 2022 3:04 p.m.

Brett Yormark, an executive with Jay-Z's Roc Nation and former CEO of the Brooklyn Nets, was named Big 12 commissioner Wednesday, another unconventional hire by a major conference amid the rapidly changing landscape of college athletics.
By Schuyler Dixon, Associated Press
June 29, 2022 10:49 a.m.

Marlene Mawson guided the university into and through the Title IX era after she was hired as a professor of physical education and director of women's athletics in 1968.

The University of Kansas athletic department has joined forces with Altius Sports Partners for its name, image and likeness initiatives, KU Athletic Director Travis Goff announced Monday. The partnership, which is centered around Altius as a consultant for best practices in the NIL space, was announced by Altius late last week. By Matt Tait

Two of Wyvette Mayberry's former coaches said the new Kansas guard is a tenacious defender, willing scorer and independent person.
By Zac Boyer
June 17, 2022 8:18 a.m.
July 2022
April 2022
March 2022
February 2022
January 2022
October 2021
April 2021
March 2021
November 2020
July 2020
June 2020
May 2020
December 2019
October 2019
January 2019
December 2018
September 2018
February 2018
January 2018
Previous Next