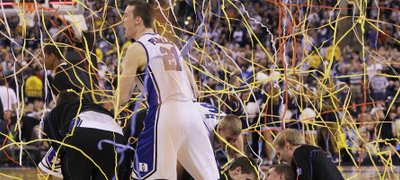 The too-perfect basketball story with the too-perfect ending is still available on DVD. The real celebration for the new national champion — that's taking place on Tobacco Road.
Yes, it's a matchup pitting a cute bulldog against a devil, America's favorite underdog against the team people love to hate. Dig a little deeper, though, and basketball fans might see two programs, the Butler Bulldogs and Duke Blue Devils, who come from almost the same place.
Little Butler has faced one big test after another in its magical run through the NCAA Tournament. And the biggest awaits in Monday night's title game: Duke, winner take all.
Hoop notions, near and far

After tossing a big, wet blanket on one feel-good story, Duke gets to go after another.

Kansas — gone. Kentucky — gone. Syracuse — gone. Little Butler — still going. How's that for a Hollywood hoops script? Call it "Hoosiers," the sequel.
On one bench, there's Bob Huggins, a coach who has dealt with an NCAA investigation, suffered a heart attack, been arrested for DUI, endured the stain of a zero-percent graduation rate and the tumult of two contentious job changes.
Kansas University basketball coach Bill Self, who worked as a studio analyst for CBS last weekend in New York, has studied Final Four participants Butler, Michigan State, Duke and West Virginia extensively. His expert opinion on the field after watching it perform in the Elite Eight?
Butler's emergence as 2010 NCAA basketball champion would be one of the greatest underdog stories in college history, maybe sports in general. Go Bulldogs!
Mateen Cleaves clapped hands and bumped chests with each of the Michigan State Spartans as they filed in for their first video session after advancing to the Final Four.

Bears exit tourney in bittersweet fashion
Maybe Baylor finally can escape its past, even if the Bears couldn't cap their breakthrough season with a perfect ending.

Duke is back in the Final Four, ending an unusually long absence for coach Mike Krzyzewski's team — and keeping No. 1 seeds from being shut out of the title chase.

The players come and go, the years pass. About the only thing that doesn't change is Tom Izzo and Michigan State's mastery in March.

Kansas University basketball coach Bill Self and fellow CBS-TV panelists Greg Anthony and Seth Davis each went for the favorite when asked by studio host Greg Gumbel for a prediction before Saturday's West Regional final between Butler and Kansas State.

Huggins, West Virginia in Final Four
Country roads, take me home. Or better yet, Indianapolis.
March 2010
Previous Next