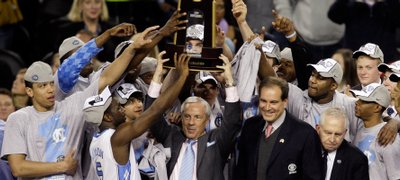 Tar Heels claim fifth
NCAA

title with stomping of Spartans

Warm and fuzzy they were not. For a year, maybe more, North Carolina could feel this national championship coming. It was a calculated march, and behind the unrelenting play of Tyler Hansbrough, Wayne Ellington and Ty Lawson, the Tar Heels stomped out Michigan State's inspirational run Monday night with an 89-72 blowout that wasn't that close.
After over twenty years of filling out brackets, Ben Hendricks finally has something to show for it. Hendricks was the big winner in KUSports.com's 2009 NCAA Tournament bracket contest, sponsored by Kief's Audio/Video.
Yeah, fine. You Tar Heels go celebrate. But a little warning, fellas: Michigan State is going to kick your butt the third time around. Kidding, kidding. I'm going to go out on a limb here and say the better team won Monday night. This truth should make the result easier on Spartans fans — and, eventually, easier on the Spartans themselves.
The NCAA final between North Carolina and Michigan State is a rematch, though Carolina insists its even better than the team that beat the Spartans, 98-63, last time.
I have a theory about upsets: They usually aren't as big as we think they are. One team gets overhyped. The other team, the underdog, is outstanding, but people don't realize it yet.
Michigan State has been itching for this do-over since December.

Kansas University sophomore center Cole Aldrich on Sunday was named to the NCAA Tournament All-Midwest Regional team. Michigan State's Goran Suton, Kalin Lucas and Travis Walton and Louisville's Earl Clark also were voted to the squad by media members covering the tournament.
Dynasties can't exist in college basketball, not anymore. You have Florida, with its back-to-back titles in 2006 and 2007, now working on a two-year streak of NIT trips. You have UCLA, with three straight Final Four appearances snapped this year, but no titles. ou have Kentucky (no Final Fours since 1998), you have Duke (no Final Fours since 2005), and you have a mishmash of everyone else.

Blake Griffin might be the nation's best player. North Carolina brushed him aside with a total team effort. Ty Lawson scored 19 points and Danny Green added 18 to lead the top-seeded Tar Heels to a 72-60 win over Griffin and Oklahoma on Sunday in the South Regional final.

Michigan State is marching on to Motown. The Spartans gave the Final Four a hometown feel, stopping overall No. 1 seed Louisville 64-52 Sunday to win the Midwest Regional.

Jayhawks leave Indianapolis wanting a return trip in 2010
Kansas University's basketball players and coaches boarded the team bus at 10 a.m. Saturday in front of the downtown Indianapolis Omni Severin Hotel, hoping they'd be back in Hoosier Country sooner rather than later.
It was physical. It was defensive. It was just the way they like it in the Big East. With bodies clogging the lane and 3-pointers clanging off the rim, Scottie Reynolds made a half-court dash for a last-second basket to give Villanova 78-76 victory over Pittsburgh and send the Wildcats to their first Final Four since the 1985 team made its stunning run to the NCAA championship.

Connecticut is making another trip from the desert to the Final Four. The wait goes on for Missouri.
Bad weather across Kansas forced the Kansas men's basketball team's flight back from Indianapolis to be diverted again, this time to Kansas City International Airport. They arrived in Lawrence a little after 2 p.m. Saturday.
March 28, 2009 11:28 a.m.
The latest plans for the Kansas men's basketball team are to arrive at Forbes Field in Topeka at approximately 11:30 a.m. Saturday.
April 2009
March 2009
Previous Next