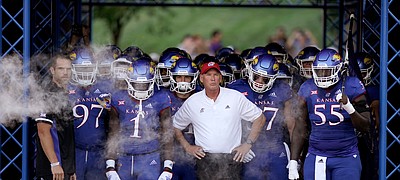 The new contract signed by Kansas football coach Lance Leipold is slated to keep him in Lawrence through the 2029 season and will more than double the salary he agreed to when he signed his initial six-year deal with KU in 2021. By Matt Tait

No. 12 Kansas State defeated in-state rival Kansas for the 14th consecutive time on Saturday night in Manhattan, winning 47-27 to earn a spot in the Big 12 championship game next week in Arlington, Texas. By Matt Tait

Mark down one vote for Kansas versus Kansas State having a permanent home on the last weekend of the regular season, often known as Rivalry Week in college football.
By Staff report
November 25, 2022 3:52 p.m.

After weeks of hearing Kansas football coach Lance Leipold and his wife tell anyone who would listen that they were happy in Lawrence and planned to be at the University of Kansas for a long time, KU officials announced a new contract agreement between KU and Leipold on Wednesday afternoon. By Matt Tait

Kansas football coach Lance Leipold has agreed to a contract extension that is expected to keep him in Lawrence for the long haul, a source with knowledge of the conversations between KU and Leipold told the Journal-World on Tuesday night. By Matt Tait

Kansas head football coach Lance Leipold frequently tells his players that they "have to own what's on film." After a 55-14 loss at the hands of Texas on Saturday — the worst of the season for the Jayhawks — there were plenty of miscues on film to own.
By Staff report
November 21, 2022 4:30 p.m.
During the first 11 games of his super-senior season, Kansas defensive tackle Caleb Sampson has operated with the type of disruptive demeanor that defensive linemen are expected to have. His impact on this roster, however, has gone well beyond his tackles, sacks and pass break-ups. By Matt Tait

Texas standout Bijan Robinson ran through, over and around Kansas for a career-high 243 yards and four touchdowns on Saturday, helping the Longhorns earn a measure of revenge with a frigid 55-14 victory.
By By DAVE SKRETTA Associated Press
November 19, 2022 6:49 p.m.

The average winning margin in Big 12 games is 13.5 points, lowest among the Power Five conferences.

It remains to be seen if this season's Kansas-Texas football game will bring with it the same kind of excitement as last season's 57-56 overtime win by KU in Austin, Texas. But for the Jayhawks, the 2021 game has proven to be the gift that keeps on giving. By Matt Tait
By Matt Tait
November 18, 2022 7:56 a.m.

If the University of Kansas ever decides it wants to change athletic conferences, it will have to win some state approvals that aren't required today. By Matt Tait

KU plans to build a 600-person conference and event center that would be integrated into the north bowl of its football stadium, according to a concept plan obtained by the Journal-World. By Chad Lawhorn

The kicking game continued to be an issue for the Kansas football program last weekend at Texas Tech, but the Jayhawks have tried to address it. By Matt Tait

The situation surrounding Kansas football's quarterback position has taken a new turn. By Matt Tait

The Kansas football team's 2022 home finale against Texas is slated for a 2:30 p.m. kickoff next Saturday on FS1. By Matt Tait
November 2022
October 2022
Previous Next