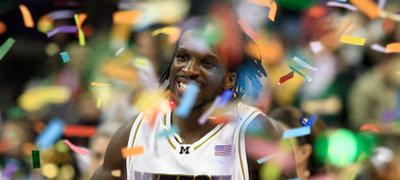 DeMarre Carroll scored 20 points and No. 14 Missouri ended Baylor's surprising run through the Big 12 tournament, grinding down the Bears 73-60 to win their first postseason conference title in 16 years. Matt Lawrence added 13 points and his hot shooting helped the third-seeded Tigers (28-6) pull away early in the second half to spoil what would have been an unprecedented run to the title for Baylor.

Spotlight shines bright on Collins in NCAA Tournament
Sherron Collins, who is well on his way to becoming the most accomplished basketball alumnus of Chicago's Crane Tech High School, learned the tricks of the point-guard trade from his idol, fellow Crane graduate Will Bynum.

Kansas University's early Big 12 tournament exit last week ruled out the possibility of the Jayhawks sweeping the regular and postseason conference men's basketball titles. The sudden departure from Oklahoma City did, however, provide the Jayhawks with plenty of rest before their first-round tilt in the NCAA Tournament with North Dakota State. Will the added rest make a difference?
With her knee mangled and just starting to heal, there was nothing Jhasmin Player could do but watch as Baylor struggled its way to a short-lived postseason a year ago.
Kansas University's basketball players paid the price at practice Friday afternoon and Saturday morning for losing Thursday's Big 12 quarterfinal contest against Baylor.

Zaire Taylor and No. 14 Missouri continue to show that playing fast doesn't necessarily mean playing pretty. The Tigers will take the wins any way they come. Taylor scored a season-high 19 points, Leo Lyons added 12 of his 15 points in the second half and the Tigers were the first to break through in an off night for offense, beating Oklahoma State, 67-59, to move on to today's 5 p.m. Big 12 championship game against Baylor.

Scott Drew watched his Baylor team fall apart with a midseason swoon that wiped away some newfound high expectations in his program.

Jayhawks await NCAA fate
Oklahoma senior center Courtney Paris brought recent national attention to women's college basketball with a scholarship-money-back guarantee if the Sooners don't win the national title. On Thursday morning/afternoon, Paris showed the stuff that makes her so confident in leading her team to a 76-59 victory against Kansas University to advance to the women's basketball Big 12 Tournament semifinals at Cox Center.

OU forward contributed 27 points, 14 rebounds and six blocks in top-seeded Sooners' victory.

Big 12 tournament victory earns KU matchup with Oklahoma; might an NCAA bid follow?
Sade Morris scored 24 points, while Danielle McCray added 22 as the eighth-seeded Kansas women's basketball team took a 61-56 victory over ninth-seeded Nebraska in the first round of the Big 12 tournament.

Top-seeded KU stunned by Bears
Sherron Collins' head was bowed as he mumbled responses to a batch of reporters' questions Thursday afternoon in a somber Ford Center locker room. "This hurts … bad," Collins, Kansas University's junior point guard, said after the Jayhawks' 71-64 Big 12 tournament quarterfinal loss to Baylor. "I'm not shocked, just upset," Collins added after feeling the pain of "one and done" in the postseason for the first time in his college career.
Saying that the Kansas University basketball team regressed to playing playground basketball Wednesday in the Ford Center would be giving the team too much credit. The game they played did come straight from the playground, but it was called keep-away. Cole Aldrich was it.

Baylor's Kevin Rogers was either being forgetful or humble. After his team's 71-64 Big 12 tournament basketball victory over top-seeded Kansas University on Thursday, the forward said he didn't remember making the prediction Wednesday that his team would beat the Jayhawks. "I said we would try, and fortunately for us, we were able to," Rogers said. "I don't make guarantees, because you never know what could happen. I never make guarantees."

Bill Self is a basketball coach, not a member of the NCAA Tournament Selection Committee. So he doesn't know if Kansas University fell from a possible 2 seed, to a 3 seed or even a 4 seed by losing to Baylor, 71-64, in a Big 12 quarterfinal game on Thursday at Ford Center. He is positive of one thing, however.

Kansas University's Sherron Collins said he banged his left leg in the second half. "I didn't adjust to a screen, and we (he and an unnamed Bears player) ran into each other. It didn't bother me. It didn't have an effect on the outcome," Collins said. "It's the time of season you don't have your legs under you all the time. I'm all right."
Previous Next