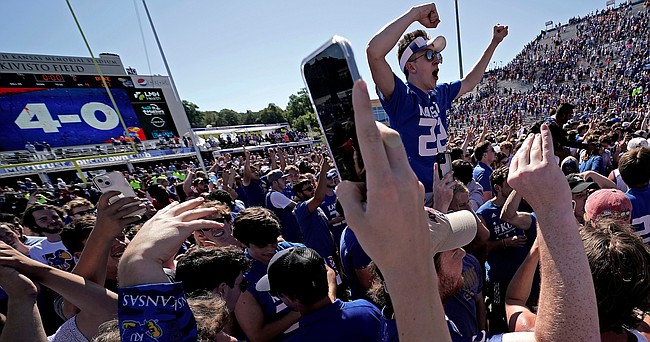 The Kansas football team's improbable 4-0 start has landed the Jayhawks on the doorstep of the Associated Press Top 25 rankings.
KU received 125 votes in this week's poll, which was released on Sunday morning, after knocking off previously unbeaten Duke on Saturday, 35-27, at David Booth Kansas Memorial Stadium in front of a sellout crowd.
That was the most votes for any team not in the poll and essentially has the Jayhawks ranked No. 26 in the nation entering Week 5. Kansas State, which knocked off No. 6 Oklahoma on Saturday night, was ranked No. 25 in the poll on Sunday, with 166 votes.
The last time KU was ranked in the AP Top 25 came on Oct. 18, 2009, when KU sat at No. 24 in the poll, 674 weeks ago.
KU also sits on the brink of being ranked in the USA Today coaches poll. The Jayhawks were the second-highest team receiving votes in that poll on Sunday.
The Jayhawks' win over Duke, which featured a career day from quarterback Jalon Daniels, pushed Kansas past the three-win plateau in a single season for the first time in the post-Mark Mangino era.
That it came in just the fourth game of the season and head coach Lance Leipold 16th game in charge of the program.
The buzz and excitement around Lawrence — and, really, throughout college football — over KU's stellar start has demonstrated that Kansas football can be relevant again.
But it's not that different from what the coaches and KU players expected after an offseason of hard work, reshaping the roster and staunch determination to get things started down the right path again.
Asked after Saturday's win what he would have said if someone had told him before the season that KU would be 4-0 this season, Daniels started straight ahead and said, "I wouldn't say that I would be surprised." He also said it feels "amazing."
"To see the excitement that's in that locker room right now and the excitement from the fans around the stadium, we love it. We love it," he said.
Asked after Saturday's win what being ranked would mean to the program, KU receiver Luke Grimm said cracking the rankings would not change anything.
"It doesn't," Grimm said. "We're the same team that we were in Week 0. We're going be physical, disciplined. We're going to do our job to the best of our ability and whatever happens, happens. We're going to trust that."
Daniels wholeheartedly agreed, falling back on KU's "one percent better" mantra.
"We're going to play our brand of football," he said. "We're not going to change because (of what's) happening outside these walls. We know what we're doing inside this building day in and day out, and that's just not going to change."
Next up, Kansas will play host to Iowa State at 2:30 p.m. next Saturday at Memorial Stadium.
The game will be shown on ESPN2 and the oddsmakers have made the Jayhawks an early 3.5-point underdog in that game against the 3-1 Cyclones, who lost at home to No. 17 Baylor on Saturday.
After that loss and No. 6 Oklahoma's home loss to Kansas State on Saturday night, KU stood as the only 4-0 team remaining in the Big 12 Conference.
TCU and Oklahoma State are both 3-0 but both of those programs have yet to play a conference game.