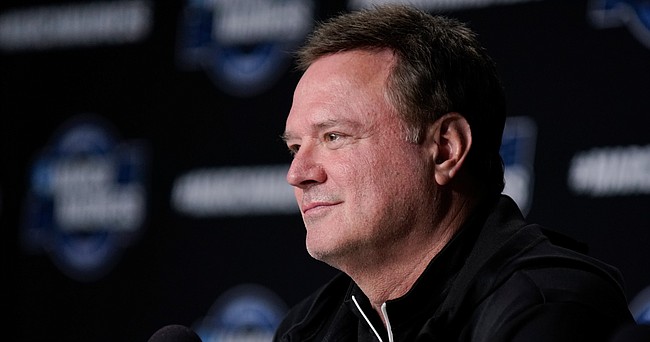 The 15th annual Coaches vs. Cancer season tipoff fundraiser is moving to Lawrence this year.
Normally held in Downtown Kansas City, Missouri, the event will move to the large ballroom at Crown Automotive in Lawrence for the 2022 event, which will officially be dubbed the Coaches vs. Cancer Rock Chalk Tipoff.
According to a news release announcing the move, KU men's basketball coach Bill Self "and several special guests" will attend the event, which is slated for 5-9 p.m. on Oct. 5.
The event is being hosted by the National Association of Basketball Coaches and the American Cancer Society, and the money raised will go to support the ACS's mission "to free the world from the pain and suffering of cancer by directly helping people in our community, providing information and support, free lodging and transportation, and funding local research grants."
Since 1993, Coaches vs. Cancer events have raised more than $145 million for the American Cancer Society's efforts to fight the disease.
Sponsored by the University of Kansas Health System and the University of Kansas Cancer Center, the Oct. 5 event will begin with a VIP reception at 5 p.m., followed by general admission at 6 p.m. Seating begins at 7 p.m. and the festivities, which will include a live auction and panel of Kansas basketball guests, is slated to start at 7:15 p.m.
For tickets, to register for the auction or to donate to the cause, visit CVCKC2022.givesmart.com.