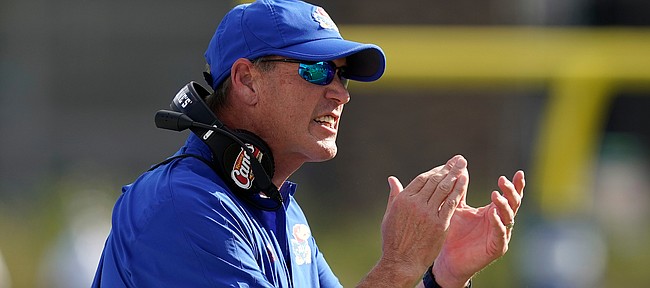 Somewhat lost in the euphoria of the Kansas football team's 56-10, season-opening victory over Tennessee Tech last Friday night was the fact that head coach Lance Leipold recently received a one-year contract extension.
The extension, which keeps KU's second-year coach under contract at Kansas through the 2027 season, was announced last Thursday night, a little more than 24 hours before the Jayhawks opened the 2022 season with a convincing victory.
KU Athletic Director Travis Goff said Thursday that adding a year to Leipold's original six-year deal was a demonstration of "exceptional confidence" the university has in Leipold and his coaching staff.
Leipold said Tuesday that the gesture was "very humbling and appreciated."
"They've seen some of the progress we have made in the program as a staff (as) we continue to work toward stability and building this program the right way," Leipold said of Goff and KU Chancellor Douglas Girod.
Leipold reportedly will make $3.5 million in the final year of his deal in 2027. In April of 2021, Leipold signed a six-year con-tract with an escalating annual salary that would pay him $16.5 million over six years, or an average of $2.75 million per year. Adding the seventh year bumps Leipold's average com-pensation to $2.86 million per year over the life of the contract.
More than that, it provides Leipold even further stability and support during the rebuilding process and on the recruiting trail.
Leipold said talk of an early extension first surfaced during the hiring process and through "a couple casual conversations" in the days since he took over the program.
After a brief meeting with Goff in his office prior to a staff meet-ing leading into the first game week of the season, Goff asked Leipold to stay back for a minute. That's when he told him about the extension.
"We talked about a couple things and he said, 'We are going to add a year to your contract.' That's about how it went," Leipold said Tuesday.
From there, it was off to the staff meeting after a quick hand-shake and a sincere thank you.
"We talk about our stability through the years," Leipold said Tuesday. "We've talked about that since we arrived with our staff and people that have worked together. That continuity and stability is something we've talked about and this exten-sion will give us something to add to that. When you are look-ing at what this program has gone through, those are good signs to the locker room, recruiting, fan base, anyone who is affiliated with this or could be at some time in their life. I think this is all good."
Kansas went 2-10 in Leipold's first season, winning the sea-son opener and again on Nov. 13 in a thriller at Texas.
After a fast start to Leipold's second season, the Jayhawks will look to move to 2-0 for the first time since 2011 when they travel to West Virginia on Saturday for the Big 12 opener for both teams.
Kickoff is slated for 5 p.m. and the game will be broadcast on ESPN+.