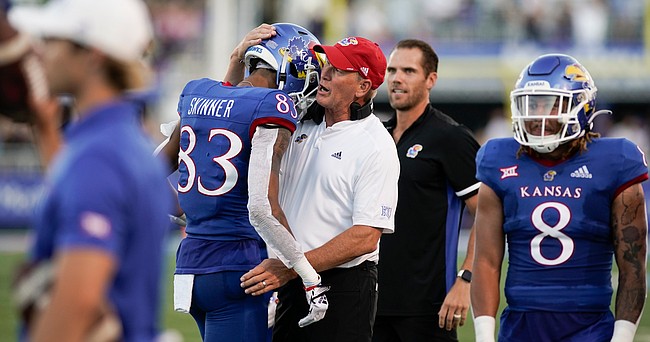 Last Friday night, on the heels of a 56-10 win over Tennessee Tech in the season opener at home, several Kansas football players took time out from their celebrations to emphasize their understanding that things were going to get much harder in Week 2.
KU coach Lance Leipold appreciated that and, in some cases, was even a little surprised by it.
"To see that is encouraging. It really is," Leipold said Tuesday while previewing KU's Week 2 matchup at West Virginia. "Even some guys who don't speak up a whole lot were very much in that mindset right away. That's a great sign of maturity and understanding that yeah, let's celebrate this, let's enjoy this, but, yes, there's more to come and the challenges are going to increase in a lot of different ways."
It's pretty rare for Kansas to open conference play so early in the season. Most years, the Jayhawks have been tested by three games against nonconference foes before jumping into Big 12 play. Prior to the 2011 season, it was four nonconference games that preceded eight conference games, giving the Jayhawks ample time to ease their way into a new season.
This season, the shift from opening night to Big 12 football will require an entirely different mindset. Leipold noted attention to detail and improved physicality as two of the biggest areas KU will need to be sharp in during Saturday's 5 p.m. kickoff in Morgantown, West Virginia. And he said that might be a bigger challenge for the Jayhawks (1-0) than it will be for the Mountaineers (0-1), who lost at Pittsburgh in a high-stakes, high-intensity rivalry game last Thursday night to open their season.
"I think they're understanding that conference games are going to be a lot different than playing a home FCS game," Leipold said of his players as they prepare for WVU.
The Mountaineers, who were picked to finish eighth in the Big 12 in the preseason coaches poll, are 6-0 all-time against the Jayhawks in games played in Morgantown. Those wins have come by an average score of 40-14, but the freshest memory in the minds of these two teams is last year's 34-28 WVU win in Lawrence.
KU running back Devin Neal, who led the Jayhawks in rushing last season and led Kansas with 108 yards and two TDs in last week's season opener, did not play in that game.
Both teams brought in a significant number of new faces — many of them starters — which adds to the uncertainty and anticipation surrounding this year's matchup.
Leipold likes where his guys are at entering this one, and he expects that WVU coach Neal Brown will have his team ready to roll, as well.
"(We're) a different football team than we were a year ago, for the better," Leipold said. "We've got to be able to go out there and execute."
Regardless of the outcome on the scoreboard, Leipold said it was important for his players to treat Saturday's game as another important step in rebuilding the program.
"This is probably going to be a big test on the road and a true evaluation of where we are early," Leipold said. "It's not going to be a do-or-die or (define) where we're at or where it's going, but it's going to be a stop along the way."
WR Scott available for Week 2
During Tuesday's news conference, Leipold provided an update on the status of suspended wide receivers Tanaka Scott and Trevor Wilson.
Both players were arrested last week after an off-the-field incident involving handguns. Wilson is facing a charge of aggravated assault and remains suspended indefinitely, Leipold said Tuesday.
After the charge against him was dropped, Scott returned to practice and Leipold said he was "available" for Week 2 at WVU. Whether the redshirt freshman from Mobile, Alabama, will play on Saturday remains to be seen.