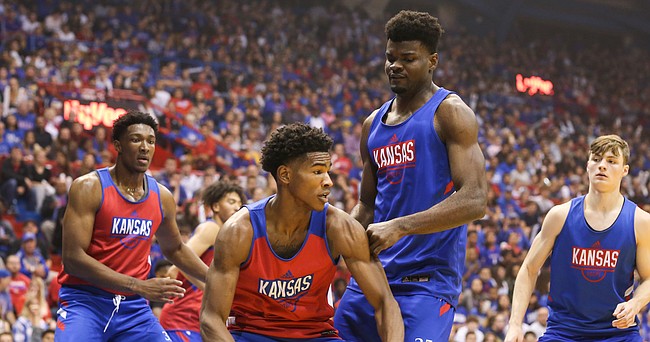 Former Kansas All-American Ochai Agbaji is leaving Cleveland before he ever gets a chance to suit up for the team that drafted him with the 14th and final pick of the 2022 NBA draft lottery in June.
Agbaji was one piece of a massive trade between the Cavaliers and Utah Jazz that will send superstar Donovan Mitchell to Cleveland and a whole bunch of picks and players to Utah.
According to a report from the Associated Press, Cleveland is sending guard Collin Sexton, forward Lauri Markkanen and Agbaji, along with three unprotected first-round picks to the Jazz in exchange for Mitchell.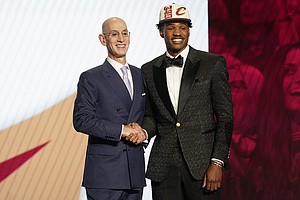 This marks the second time in the past eight years that the Cavs have drafted a Jayhawk in the lottery and traded him be-fore he ever played for them. In 2014, Cleveland drafted KU's Andrew Wiggins No. 1 overall and moved him to Minnesota before the season began in a trade for Kevin Love.
The trade involving Agbaji still must be approved by the league to become official, but assuming it is, the move to Utah will re-unite Agbaji with former KU teammate Udoka Azubuike, a first-round pick in 2020 who has played sparingly because of inju-ries since entering the league.
When they picked him in June, the Cavs, who have not made the playoffs since 2018, talked glowingly of Agbaji's ability to add a much-needed dose of outside shooting to their lineup.
By shipping him to Utah, Agbaji could find himself playing a bigger role. After moving All-Star big man Rudy Gobert earlier this year, the Jazz doubled down on their rebuild by moving Mitchell to Cleveland.
While Sexton and Markkanen are viable pieces who will play big roles, the rest of the roster features a mixture of role play-ers, aging veterans and newcomers, which should give Agbaji a path to meaningful playing time provided he performs like the lottery pick he is.
Azubuike's playing time in his third season with the Jazz is a bigger question. But if he can find his way into the rotation, there's little doubt that being reunited with Agbaji will be a good thing for the two players and the franchise.
Agbaji and Azubuike, of course, last teamed up during the 2019-20 college basketball season, leading the Jayhawks to a 28-3 record and the brink of being the No. 1 overall seed en-tering the NCAA Tournament.
The postseason was canceled that year, however, because of the pandemic, and the two Jayhawks with Nigerian roots never got to make a run at doing what Agbaji and the Jayhawks did two years later.
Although the official start date for the team's training camp has yet to be announced, it likely will open sometime in the next couple of weeks. Utah's first preseason game of the 2022-23 season is slated for Oct. 2.