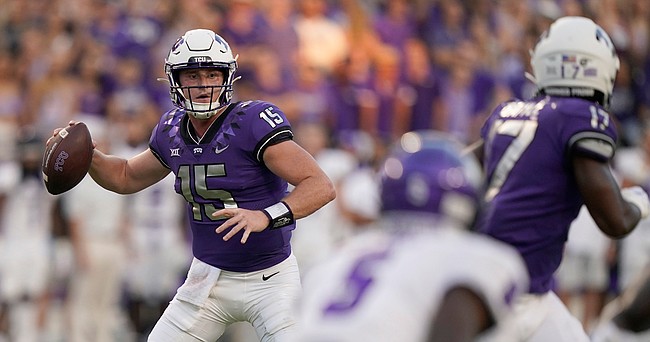 The Kansas football team in Week 6 will get a taste of what some of its opponents have had to face during the 19th-ranked Jayhawks' hot start to the season.
After weeks of watching Kansas quarterback Jalon Daniels rack up honor after honor and play his way into the Heisman Trophy conversation with stellar numbers, it's a handful of Daniels' teammates who will have to find a way to stop that type of player this week.
His name is Max Duggan, he's 17th-ranked TCU's starting quarterback and, through the first five weeks of the season, he has been one of college football's most productive and efficient passers.
"I would say (it's) much like we think of Jalon," KU coach Lance Leipold said Tuesday. "But (he has) a different body type. He can run, he's not afraid to put his shoulder down and run over you, he's going to outrun you. He's making the quick throws very well. He can throw the deep ball. He's got a great set of receivers. It's going be a challenge."
Duggan leads the nation in passing efficiency with a rating of 202.2 — Daniels is seventh at 177.45 — and he ranks third in completion percentage at 74.5%, having completed 70 of 94 pass attempts so far this season.
"He's playing really, really well," Leipold said Tuesday, sighing to show his admiration. "But I was impressed with him last year."
Like Daniels earlier this season, Duggan, in Week 5, was named the Big 12 Conference's Offensive Player of the Week for his role in the Horned Frogs' 55-24 beatdown of Oklahoma last weekend.
Many of the same organizations who recently heaped a whole lot of praise on Daniels did the same for Duggan this week.
The Walter Camp Football Foundation named him its national offensive player of the week. The Davey O'Brien and Manning Awards named him to their top QBs of the week list. And his numbers certainly proved he belonged there.
Duggan went nuts against OU, passing for 302 yards and three touchdowns and rushing for 116 yards and two additional touchdowns. One of those was a 67-yard TD run — the second longest by a QB in school history, behind only his own 81-yard touchdown run from 2020 — and it made him just the second player in the last 15 years to have a touchdown pass and touchdown run of 60 yards or longer in the first quarter of a game.
The last to do it was current Baltimore Ravens star Lamar Jackson at Louisville in 2016.
"If he gets loose, he's like a track guy," KU defensive coordinator Brian Borland said of Duggan. "And he's also built like a linebacker. You don't come across that very often, and we're really impressed with him as well as their whole offense."
A native of Council Bluffs, Iowa, the 6-foot-2, 210-pound Duggan chose TCU over Georgia, Penn State, Iowa, Ohio State and Notre Dame out of high school.
He's been a star throughout his career at TCU and proven to be particularly effective against the Jayhawks.
In three games against Kansas, Duggan has combined for 21 completions on 38 attempts for 362 yards and five touchdowns through the air. He also has carried the ball 17 times for 135 yards and four more TDs on the ground.

In TCU's 59-23 win over KU in 2020, Duggan completed just three passes all game, but all three went for touchdowns.
According to the Jayhawks, Duggan's ability to impact a game with the quarterback run game is one of the most difficult parts about preparing to play him.
"He's really good," Borland said. "He's really fast. He's just a really good, heady decision maker. When you need to pull it down and run, he makes a good decision. When he can scramble a little bit and throw it, he does that."
While Duggan and his dynamic skill set have proven to be a handful for any defense this season, Borland emphasized that it's the entire TCU offense that seems to be clicking.
Their skill players are fast and sure-handed, their offense is balanced and Duggan is the man who makes it all go. Through four games, the unbeaten Horned Frogs are averaging 8.3 yards per play and have seen 18 different players record at least one reception.
Interestingly enough, the TCU offense is coordinated by former KU quarterbacks coach Garrett Riley.
When facing an offense that's as explosive as TCU's, Borland said the key was to try to make them earn every yard and sustain long drives. No one has been able to do that to TCU this season — the Frogs had four touchdowns of at least 62 yards in last week's rout of Oklahoma — and Borland said staying disciplined and sticking to sound fundamentals, along with limiting big plays, were the biggest keys to trying to slow the Horned Frogs down.
"We don't really have a whole lot of third-down tape on them just because they gain so much (yardage) on first and second," KU defensive lineman Malcolm Lee said Wednesday. "The biggest key is just getting pressure on Max Duggan, not letting them establish that run game (and making) them one dimensional."
Added Borland: "Schematically, it's not like they're doing something different than anybody else. It's they're just really executing their things at a pretty high level and they've got tremendous skill to do it."
Saturday's kickoff is set for 11 a.m. on FS1, with ESPN's College Gameday set to feature the Kansas program, live on Campanile hill, from 8 a.m. right up to kickoff.