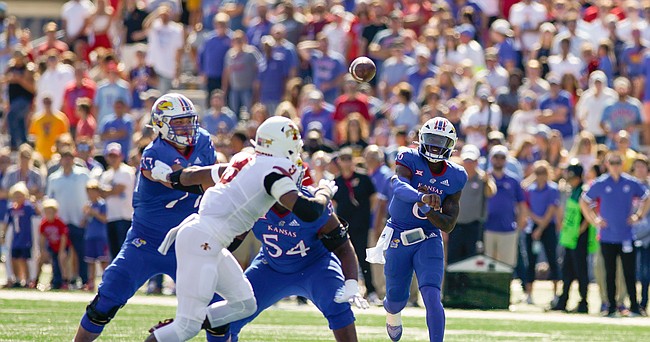 While the goal certainly was not to stall his team's explosive offense, Kansas football coach Lance Leipold said Saturday that the Jayhawks' conservative approach in the 14-11 win over Iowa State was by design.
"We played a little more probably on the conservative side and played a little more field position because of who they are," Leipold said of an Iowa State squad that entered the day ranked 15th in the nation in total defense. "So to find a way to get it done says (a lot) about this team."
After two second-quarter touchdowns gave the Jayhawks (5-0 overall, 2-0 Big 12) a 14-0 lead, the offense sputtered most of the rest of the way.
The Cyclones (3-2, 0-2) had plenty to do with that, giving up just 213 yards of total offense on the day and limited Heisman Trophy candidate quarterback Jalon Daniels to just 93 yards passing and 9 yards rushing.
KU recorded just three first downs in the entire second half and ran nine plays for negative yardage in the fourth quarter. That included a pair of fourth down calls in plus territory where Leipold elected to punt rather than try to get the first down. The punts were largely successful and the Jayhawks won the game, so, in the big picture, it didn't wind up hurting anything.
But it might have had it not been for a horrific special teams day by the Cyclones, who missed three field goals and also gave the ball away by muffing a punt.
Leipold said after the game that his decision to punt instead of going for it in those fourth down situations had a lot to do with the fact that the KU offense never really looked to be in rhythm after the opening quarter and a half of Saturday's victory.
"I think the game and a little bit of (the) score (factored into it), too," he added.
Leipold then dug deeper and addressed the decisions even a little more clearly.
"To me, today's difference was first and second down," he said. "We had a lot of third and longs today. Well, third and longs don't give you a lot of chances to go for (fourth downs). Fourth and five and six, I don't know if I was ready to pull the trigger on that today. And that's on me."
Despite the off day from what had been one of the nation's highest-scoring and most-efficient offenses, Leipold said he was proud of the way his team did not let the lack of success tear them down.
"There's a difference between enthusiasm and being a little too emotional," he said. "I don't think our confidence waned, though. I really didn't. There's not a lot to get excited about when it's a one- or two-yard gain."
Photo Gallery
Kansas football v. Iowa State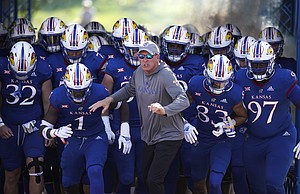 View a gallery of images from Saturday's game between the Kansas Jayhawks and Iowa State Cyclones.
As he has been known to do even after his biggest and best games, Daniels put a lot of the blame for the offense's struggles on his shoulders. But he, too, was proud of the way he and his teammates stayed locked in and found a way to win. For that, Daniels gave most of the credit to the KU defense.
"The defense showed out today," he said. "A whole bunch of defensive guys came up to me after the game and were like, 'You know we got you.' And I was like, 'That's love. Just keep doing what you're doing.'"
Daniels then added: "Having adversity on the offensive side of the ball isn't something we've really had much this season. So to be able to keep that positive mentality throughout the whole entire game no matter what's happening, it's not necessarily easy but I thought we did a great job no matter what situation we were in."
Leipold also gave some of the credit for KU's off day offensively to the Iowa State defense and the Cyclones' unique defensive front that shows teams a lot of different looks and can be difficult to prepare for in a single week.
"Inconsistent, obviously," Leipold said of the offense.
But he said watching his team fight through the frustrations of going backwards as often as they went forwards at times could wind up being good for this group in the long run.
If nothing else, they now know that even on a day when they don't have everything clicking, they can still find a way to win.
"As we know, this thing's not going to get any easier by any stretch," Leipold said. "But I think it's going to give us a chance to be confident and know that we can go in there and play people for four quarters and see where it takes us."
Next up, KU will play host to unbeaten TCU at 11 a.m. next Saturday on FS1. ESPN's College Gameday announced Saturday night that it was coming to Lawrence to showcase Kansas football during its weekly college football preview show.