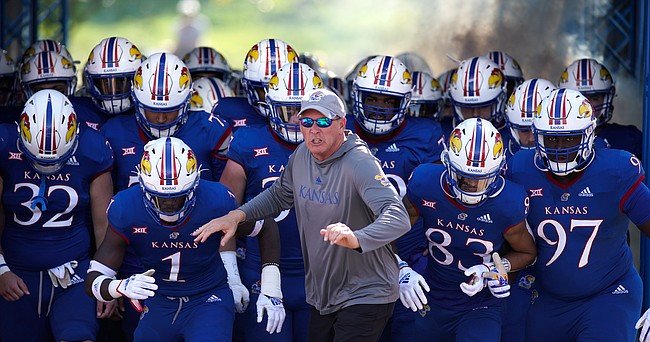 It was ownership day on Monday.
Kansas head football coach Lance Leipold frequently tells his players that they "have to own what's on film." After a 55-14 loss at the hands of Texas on Saturday — the worst of the season for the Jayhawks — there were plenty of miscues on film to own.
Leipold on Monday said he had a practice full of buyers.
"We just finished up about a half hour ago, and it was one of our best Monday practices we've had in a long time," Leipold said at his weekly press conference.
The Jayhawks need a good week of practice not just to plug some defensive holes that the Longhorns exposed with a nearly 430-yard rushing attack on Saturday, but also because the Jayhawks have their biggest rivalry game of the year coming up.
KU will play Kansas State at 7 p.m. on Saturday in Manhattan in a nationally-televised game on FOX. The game will mark year No. 2 for Leipold in the rivalry. Leipold said last year's meeting left him with a clear idea of what the Jayhawks need to own when it comes to the Sunflower Showdown.
"We need to carry our end of the rivalry," Leipold said when asked what he learned about the showdown in Year One. "That is first and foremost. This hasn't been much of a rivalry. We didn't make that a competitive game last year."
KU lost 35-10 last year in Lawrence, which marked the 13th consecutive time KU has lost to the Wildcats. The Jayhawks' last victory in the series was a 52-21 victory in 2008.
To change that trend Saturday, KU will have to do something about its defense, which now ranks 118th in the nation in total team defense. Texas running back Bijan Robinson had 243 yards on 25 carries against the Jayhawks on Saturday.
"There were some big numbers between missed tackles, yards after contact, and part of those missed tackles came from bad angles and some things that really accounted for a major, major chunk of their yardage for the day," Leipold said. "That is something we addressed and something I know our guys have taken to heart."
Leipold said the team also is working on improving it offensive production on short, third-down plays to keep more drives going. Leipold said for the first time in a long time — due to injuries — KU has both of its top two quarterbacks practicing at the same time.
Leipold said starter Jalon Daniels had a "little bit of rustiness," that he had to work through in Saturday's game, his first back since suffering an injury against TCU on Oct. 8.
"He did not want to come out of the game," Leipold said of possibly pulling Daniels earlier in Saturday's blowout loss. "I talked to him in the third quarter about taking him out and he 'said I need to work some rust off and I want to stay in.'"
Leipold said he did see signs of Daniels becoming sharper as the game progressed.
"I thought he made some throws that were very impressive as the game went on, and I think he gained more confidence," Leipold said.
In other news and notes from Leipold's press conference, the coach said:
— KU continues to evaluate its options when it comes to field goals. KU kicker Jacob Borcila missed a 34-yard field goal in the second quarter. It was his third miss in the last two games and for the season he's now missed six of 13 attempts. After the miss, freshman Owen Piepergerdes came into the game to successfully kick the extra points for KU's two touchdowns late in the game. It was Piepergerdes' first action of the year kicking extra points for the Jayhawks.
Leipold on Monday did not indicate whether Piepergerdes would continue to handle the kicking duties.
"Our field goal kicking is not very good as we all know," Leipold said.
Leipold said the decision to bring in Piepergerdes was a combination of wanting to give a young player opportunity, but he said the change also was "strategy based."
"Jacob Borcila, as we know, has had some good days but has had some rough days," Leipold said. "He also has worked through some injuries, and I appreciate him trying to battle through some of those, but he knows as well that we have to be able to make those. . . Game day performance the last two games was not what we needed, and I decided to make the change."
— KU already has secured its sixth win of the season, ensuring that it will be eligible for a postseason bowl. Leipold said when KU will be playing in a bowl is of great interest not only to fans but to everyone in the football program who is trying to plan for the extra practices and other events that come with postseason play. KU won't know its bowl destination until the first weekend in December. Leipold on Monday said there will be plenty of time for that, but not now.
"I would rather stay focused on the one we've got left to play," he said.