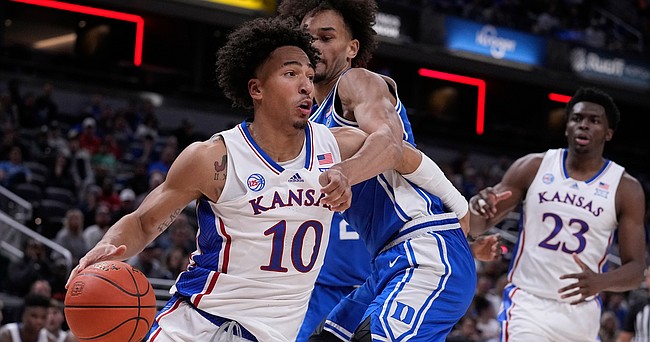 Jalen Wilson scored a career-high 25 points while adding 11 rebounds and 5 assists to lead No. 6 Kansas past No. 7 Duke, 69-64 in a slugfest in Indianapolis.
The win moved the Jayhawks to 3-0 on the season and 7-5 in the Champions Classic. KU has now won six of its last seven games at the event. Duke fell to 2-1 on the season and 7-5 in the Champions Classic.
Kansas used a 15-5 run to close the game to pick up the victory. The Jayhawks are now 3-1 against Duke at the Champions Classic and have won four of the last five games between the two blue blood programs.
Wilson was 0-of-7 from the outside Tuesday night, but he made 11 of 19 2-point field goal attempts, many of them coming off of tough takes to the basket when Kansas needed it most. Wilson proved to be unafraid of attacking Duke's big men inside throughout the night, regardless of the outcome of each drive to the basket.
"Just being aggressive, getting downhill," he told ESPN's Holly Rowe after the win. "In moments like this you can't settle for shots. You have to get to the paint and that's what I was able to do."
Wilson played 38 minutes and looked gassed at different points in the game but never let it stop him from attacking.
"He did (look tired)," acting KU coach Norm Roberts said of Wilson. "But he wasn't coming out."
Dajuan Harris Jr., also dominated moments of this game, with his defense and savvy play on the offensive end. He finished with 6 points on 3-of-7 shooting but added 10 assists and just one turnover.
"I give credit to my teammates," Harris said. "I was setting them up, but they made the plays for me."
Said Duke coach Jon Scheyer of Harris: "He's a winner. He does a little bit of everything. On defense he's a pest. He's a great defender. He's a leader for their team and he does a lot of things that translate to winning and translate to making his teammates better."
Added Roberts: "The thing that makes Dajuan so good is he has unbelievable poise and he's always trying to make plays for others. Defensively, he was terrific."
Both Wilson and Harris seemed to find a way to make key plays — on both ends — when the Jayhawks hit a lull or needed to stay close, and their experience and confidence was huge throughout the night.
Document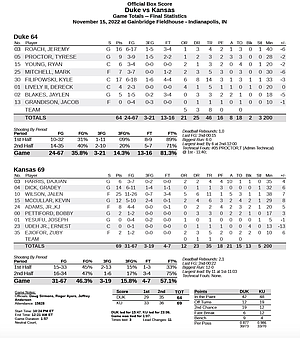 "I thought our guys made plays when we had to make plays," Roberts said. "When you're playing in a game like this where there's so much talent, players have to make plays. And our guys did that tonight."
Roberts said he saw Wilson and Harris' championship mettle shine through at the most important times on Tuesday night.
"I felt it quite a bit," he said. "Those two guys never gave (in)."
Added KU freshman Gradey Dick: "That's probably one of our biggest advantages as a team. When times get tough like (they) did tonight, we know who to go to."
After falling into a 4-0 hole to open the game — on a pair of drives to the rim by Duke's bigger bodies — the Jayhawks quickly settled in and took control.
Kevin McCullar Jr. (12 points and 6 rebounds in 25 minutes) was the victim of both of Duke's drives and he responded with a pair of 3-pointers, the second of which put KU ahead 12-6.
Those buckets were part of a 17-2 run by the Jayhawks, and the second jumper came during a 12-0 Kansas surge.
From there, the Jayhawks led for the rest of the first half, and even drew six Duke charges in the process. But 10 KU turnovers and a 2-of-13 showing from behind the 3-point line allowed Duke to hang around and the Blue Devils trailed by just four (33-29) at the halftime break.
Duke was the more aggressive team to open the second half, and the Blue Devils took their first lead since 6-5 early in the game on a follow dunk by big man Derrick Lively II. That gave the Blue Devils a 38-37 lead with 16:31 to play.
Duke's size was a problem for Kansas in the second half. Freshman big man Kyle Filipowski scored 17 points and grabbed 14 rebounds to lead Duke, but the Blue Devils also turned it over 18 times.
Kansas played from behind for most of the second half, but a seven-point spurt by Dick, who was quiet throughout the second half, broke the game open for Kansas late and the Jayhawks went on to grab the victory despite shooting just 3-of-19 from 3-point range on the night.
"I thought they made us work harder on defense than we made them work," Scheyer said. "And that was a big key to the game."
Dick's first points of the second half came on a big 3-pointer that put Kansas ahead 61-59 with 2:19 to play.
"Growing up, it's really just been next shot and short-term memory and that's kind of what I did on that one," Dick said after the win.
Duke's Jeremy Roach answered Dick's triple with a 3-pointer of his own to put Duke back ahead, but Dick followed with an alley-oop on the next possession — off a pass from Harris — and a back-cut and tough layup on the next possession that put Kansas up by three with less than a minute to play.
"He was terrific at the end of the game," Roberts said of Dick, who finished with 14 points on 6-of-11 shooting in 32 minutes. "We didn't know where he was. We were sending out a missing person's (report) most of the second half. This was the first big boy game he's played in and I thought he really responded at the end. "Him making those plays, that's big time."
Added Wilson of the KU freshman: "It just shows his confidence. It shows his courage and his composure. I know in his mind he knows (his next shot's) going in, and that's the type of guy we need him to be."
Kansas won Tuesday's game without head coach Bill Self, who was in Indianapolis but did not attend the game, sitting out the third game of a four-game suspension. Despite not being there, Wilson and Harris both said they felt his presence.
"He's been on us all week," Harris said. "This is Duke vs. Kansas. We knew it was going to be a grind it out type of game."
Added Wilson, when asked by Rowe if he thought Self would be pleased with his team's showing: "I think he's proud. We can always get better, but we're going to take the win for sure."
Roberts said winning this one without Self and assistant coach Kurtis Townsend was something the team talked about after the victory.
"We're a family," he said. "And when family members can't be with you, you want to win for them. It's we. We talk about we all the time and we're really happy we were able to get it done."
Next up, KU will return home to face Southern Utah at 7 p.m. Friday night at Allen Fieldhouse.