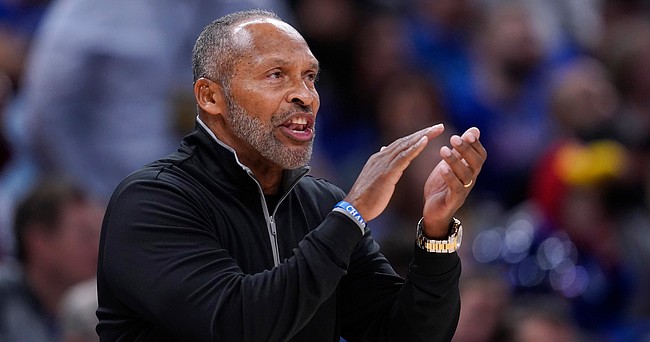 The sixth-ranked Kansas men's basketball team played a little shorthanded against No. 7 Duke on Tuesday night during a 69-64 win at Gainbridge Fieldhouse in Indianapolis.
In addition to being without head coach Bill Self for the third game of his four-game suspension, the Jayhawks also were without four scholarship players.
Sophomore forward Zach Clemence, freshman guard MJ Rice and redshirt freshman Kyle Cuffe Jr. all missed the trip and were back home in Lawrence as the Jayhawks and Blue Devils battled.
Document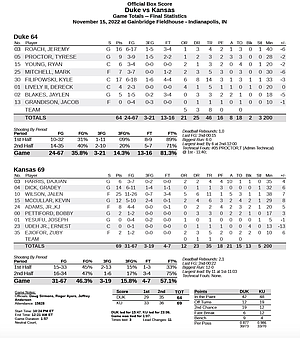 Super-senior forward Cam Martin also missed Tuesday's game as he continued to rehab his shoulder injury that is expected to keep him out until sometime next month.
KU announced earlier this week that Cuffe would miss the next several weeks because of a knee injury sustained during last Saturday's practice.
According to KU officials, Clemence missed the game because of the nose injury he suffered late in KU's win over North Dakota State last Thursday and Rice was out because of an unspecified illness.
Of the three, Rice had played the most this season despite missing the season opener entirely. He played 18 minutes in KU's win over NDSU and figures to be a regular part of the Kansas rotation when healthy.
Clemence has played a total of just 11 minutes so far this season. He has yet to make a shot — 0-for-3 from the floor and 0-for-2 from 3-point range — and has recorded five total rebounds and three fouls.
Despite Clemence's limited usage thus far, having him available against Duke's big front line likely would have been a welcome addition to KU's game plan.
Self in Indianapolis
Despite facing the third game of his four-game, university-imposed suspension, Kansas coach Bill Self traveled with the Jayhawks to Indianapolis for Tuesday's game.
Per the rules of the suspension, Self did not attend Tuesday's game at Gainbridge Fieldhouse, nor did he spend any time around his team past 11:59 p.m. Monday night. Instead, he stayed at a completely separate hotel and was only in Indianapolis to go through team meetings following the Jayhawks' Monday evening arrival.
Friday's home game against Southern Utah — 7 p.m. at Allen Fieldhouse on ESPN+ — will mark the final game for the Jayhawks without their head coach.
Starting at 12:01 a.m. Saturday, Self will be eligible to rejoin the team on a full-time basis as KU prepares to head to the Bahamas next week for the Battle 4 Atlantis tournament.
No strangers to the big stage
Although the series between Kansas and Duke did not start until 1985, the two college basketball blue bloods have not been strangers to the big stage.
Counting Tuesday night's clash, 12 of their 14 all-time meetings have come in neutral-site games, with seven of those coming in the NCAA Tournament. That includes three Final Four meetings and one NCAA title game.
The two were mere minutes away from making it two NCAA title matchups last season, when Duke lost to North Carolina in the Final Four hours after KU beat Villanova.
That Duke-UNC game marked the final game in the career of legendary Duke coach Mike Krzyzewski. Coach K was replaced by Jon Scheyer, who coached his first game against the Jayhawks on Tuesday night.
Scheyer played for Krzyzewski at Duke from 2006-10 but never faced Kansas during his 141 career games.
The Blue Devils entered Tuesday with an 8-5 edge in the series, but Kansas came to Indianapolis having won three of the last four meetings between the two programs.
KU-Duke connections
As games between big time programs tend to do, Tuesday's KU-Duke game featured some interesting connections.
KU freshman Gradey Dick and Duke freshman Mark Mitchell were teammates last season at Wichita's Sunrise Christian Academy. Mitchell, who also was recruited by KU, started his prep career at nearby Bishop Miege High.
KU guards Bobby Pettiford and MJ Rice both spent part of their youth growing up in Durham, North Carolina, not far from Duke's campus.
Although Cuffe did not make the trip for the reunion, Duke's Jaylen Blakes and Cuffe were teammates at Blair Academy in New Jersey.
KU at the Champions Classic
After a 1-4 start at the 12-year-old early-season showcase, which was first played in 2011, Kansas found its stride and won five of its next six Champions Classic games to move to 6-5 heading into Tuesday night.
That was the second-best record among the four teams through 11 games, behind Duke's 7-4 mark and ahead of Kentucky at 5-6 and Michigan State at 4-7. The other two programs squared off in the early game on Tuesday night, which unranked Michigan State won, 86-77 in double-overtime, over the fourth-ranked Wildcats.
The Jayhawks entered this year's event with a 2-1 record against Duke at the Champions Classic, a 2-2 record against Michigan State and a 2-2 record against Kentucky.
Prior to last year's Champions Classic, event organizers announced that the event had been extended through the 2025 season. KU will play Kentucky next year and the Champions Classic announced Tuesday that the game will be at United Center in Chicago.
The Jayhawks also will play Michigan State in 2024 and Duke again in 2025. Sites for those two games have not yet been determined.
Down a spot
Kansas dropped a spot in the Week 1 Associated Press Top 25 poll this week. After landing in a tie for fifth with Baylor in the preseason AP Top 25, KU came in at No. 6 in this week's AP poll. Baylor remained at No. 5.
The Jayhawks did manage to hold onto the No. 5 spot in this week's USA Today Coaches Poll, one spot ahead of Baylor.
North Carolina, Gonzaga, Houston and Kentucky filled spots 1 through 4 in both polls, with all four teams receiving first-place votes in each.
Solid streak
Kansas entered Tuesday's game against Duke with the longest winning streak among all NCAA Division I programs.
En route to winning the 2022 national title, the Jayhawks won their final 11 games of the 2021-22 season and the first two of the current season. It marked the 17th time in the Self era that Kansas has recorded a winning streak of 10 games or more.
Xavier, with seven wins in a row after winning the NIT last season, is the next closest program on the list of active DI winning streaks entering Tuesday night.