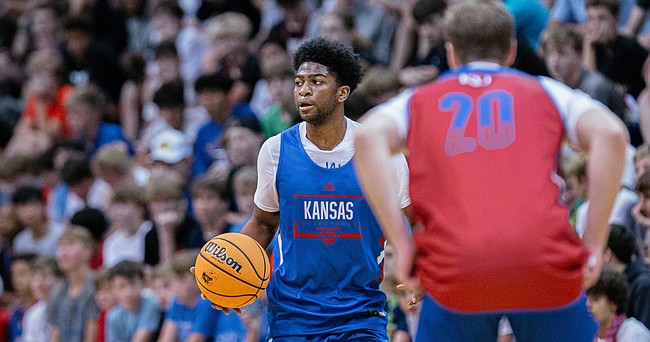 Kansas guard Kyle Cuffe Jr. suffered a knee injury during Saturday's practice and will be out an extended period of time.
According to acting KU coach Norm Roberts, Cuffe tore his MCL and PCL ligaments while running up the court in practice. Roberts said it was a non-contact injury and that Cuffe is expected to be able to return to basketball activities in 10-12 weeks.
"Doctors are really, really confident that surgery is not needed," Roberts said.
Roberts added that Cuffe was down about the injury and that he was "a great kid" who would work hard to rehab the injury and help the team however he can in the meantime.
Cuffe, a 6-foot-2, 185-pound redshirt freshman from Harlem, New York, did not play last season after graduating high school early to join the Jayhawks' 2021-22 squad.
In other injury news, KU forward Zach Clemence, who was hit in the face late in KU's win over North Dakota State on Thursday, is listed as day-to-day with a nose/face injury.
Clemence was not expected to participate in Sunday's practice and Roberts said he was not sure yet whether Clemence would be able to play in Tuesday's game against Duke at the Champions Classic in Indianapolis.
Tipoff for that one is slated for 8:30 p.m. on ESPN from Gainbridge Fieldhouse.