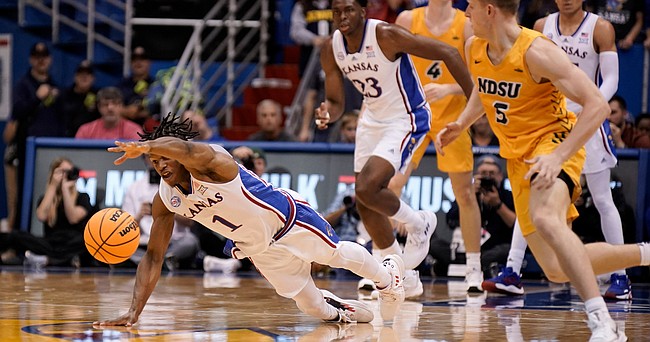 Seventh-ranked Duke steamrolled South Carolina Upstate, 84-38, on Friday night, to set up a Champions Classic showdown with No. 5 Kansas next week that will feature a pair of blue bloods that sit at 2-0 on the season.
All four games have been blowouts, and no one on either side is expecting that trend to continue next Tuesday night, when KU and Duke meet up at 8:30 p.m. at Gainbridge Fieldhouse in Indianapolis.
Kansas defeatd Omaha and North Dakota State by an average of 24 points per win and scored 86 points per game in the process.
Duke, meanwhile, won its two tune-ups by an average of 37 points per win and scored 78 points per game in the process.
Six different Jayhawks reached double digits in KU's first two games, with junior forward Jalen Wilson leading the way at 20 points per outing.
Five different Blue Devils scored in double figures in the two games, with freshman wing Mark Mitchell, from nearby Kansas City, Kansas, leading his team at 15.5 points per game.
Even with all of those numbers and endless firepower, the only thing anyone on either team wanted to talk about after their most recent wins was defense.
"(We're) really just making sure we take our defensive principles to heart," Duke forward Derrick Lively II said Friday night. "Making sure we get everything done on the defensive side so that the offensive side just flows, and making sure that we just play together."
Similar words were uttered by Kansas freshman Ernest Udeh Jr., after the Jayhawks rout of NDSU on Thursday night.
"Defense turns into offense," Udeh said. "I always believe that."
Both coaches — acting Kansas coach Norm Roberts and first-year Duke coach Jon Scheyer — also have spent much of the first couple of weeks of the season talking about getting stops and making sure their players commit to that.
"We've spent a lot of time on defense," Scheyer said after Friday's win. "That has been our main focus, and I think we're in a good spot. … I think we have the makings of being a good defensive team. We are on our way and on some rotations and close outs we need to do a better job. The effort is out there and that is where it starts on defense."
Defense has long been a staple of each program.
That goes back to the days when Duke's players first started slapping the floor to show they were ready for the next defensive possession and to the universal understanding that Kansas coach Bill Self's teams always put defense first.
Roberts was asked recently how good he thought the Jayhawks could be defensively. Like any coach would, Roberts put a couple of disclaimers on his answer, saying KU needed better rim protection and to rotate better on defense. But the gist of his answer, like the one that came from Self in the preseason, was that he thought the Jayhawks had a chance to be elite on the defensive end.
Their first two outings certainly illustrated that.
KU ranks 10th nationally per KenPom.com in defensive efficiency, and the Jayhawks are in the top 100 nationally in effective field goal percentage defense (43.5%), offensive rebound percentage allowed (20%), 3-point percentage (26.4%), block percentage (17.7%) and steal percentage (11.3%).
Most of that has come as the result of KU's suffocating first five minutes, which set the tone in both victories and put the opposing offense on its heels right out of the gate.
All five Jayhawks on the floor started both games with off-the-charts defensive intensity, and their pressure led to steals, deflections, turnovers and run-outs for easy buckets.
Looking at just two games is a small sample size, though, and the first four opponents that faced KU and Duke have an average KenPom ranking of 255th. So, there is still more to see and more to learn about both teams. That's why these early-season tests against top-tier talent are so valuable year in and year out. Win or lose, each team gets a true read on where they stand and what they need to work on.
Duke junior Jeremy Roach said after Friday's win that he already had tried to explain that to Duke's newcomers.
"You've got to lock in for 40 minutes," Roach said. "These (early) games, you might be able to take some plays off, maybe. But a game like Kansas, you have to be ready every possession. Every possession matters because the game can turn at any point. So, just stay hungry. We know they're going to be hungry; they're the defending national champs, so we have to be ready."
Added Roberts: "The Duke game will be a lot of fun. It's a great atmosphere to play in, it's great for our guys to enjoy that and compete at a very, very high level, but it's not a make-or-break game. Our guys are excited about it, and they should be."