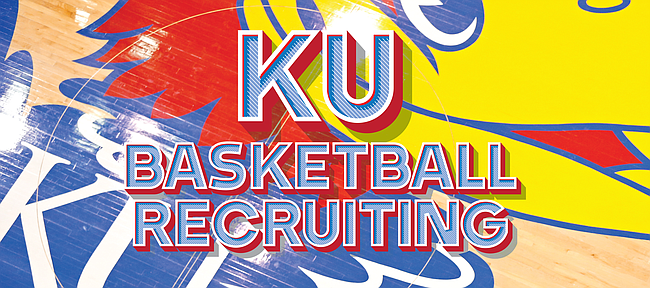 The Kansas men's basketball program officially added three prospects in the Class of 2023 to the roster for next season on Wednesday, when Chris Johnson, Jamari McDowell and Elmarko Jackson signed their letters of intent on the first day of the early signing period.
According to 247 Sports, the trio of new Jayhawks makes up the 10th best group in the 2023 class to date. Kansas coach Bill Self paid the group some pretty high praise in a news release announcing the arrival of their letters.
Self compared the group to past trios of Frank Mason III, Wayne Selden and Brannen Greene in 2013 and the Mario Chalmers, Brandon Rush, Micah Downs group from a 2005.
"To me, these three could fit in the same type of category as far as what their potential will be at KU," Self said in the release. "(These guys) will all complement each other so well because they're all similar but they're so different because of their versatility."
Johnson, a 6-foot-4, 180-pound wing from Fort Bend, Texas, who currently plays at Montverde Academy, was the first member of the class to commit to KU.
"Very versatile, can score, get his own shot but at the same time be a distributor," Self said of Johnson. "The thing that people rave about with him is that he could be an elite defender, an elite collegiate defender."
McDowell, a 6-4, 180-pound guard from Manvel, Texas, was the second player in the class to commit.
"Jamari is the best shooter of the three," Self said. "He can make a shot with range. He's got point guard skills and actually plays point guard for his high school team. At 6-4, he's got great size for his skillset and is a guy that I kind of see as an Ochai (Agbaji) that you can throw lobs to and he's a terrific 3-point shooter."
Jackson, a 6-3, 185-pound lead guard originally from New Jersey, committed to KU just before Late Night in October and then made a visit to campus for the season tipoff event.
"He's (an) athlete that can make plays with the ball and can play above the rim," Self said of Jackson. "He is extremely explosive and a guy that has been well drilled, well taught in a short amount of time to put him in a position to potentially be a McDonald's All American. We're so excited to have him. He'll be one of those versatile guards that can play the point, but also can play anywhere off the ball, as well."
KU assistant Norm Roberts was the lead recruiter for Jackson, while second-year assistant Jeremy Case was the point man in KU's pursuit of Johnson and McDowell.