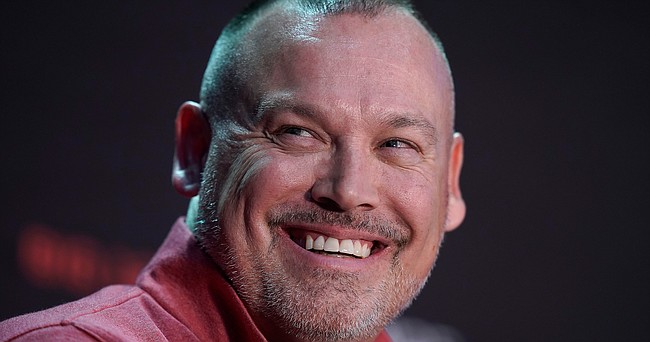 With a new season opening Wednesday night, the Kansas women's basketball team is looking to begin the 2022-23 campaign with the same kind of energy and excitement that the 2021-22 season ended.
And the Jayhawks are hoping Kansas fans will hop on for the ride a little earlier this time around.
"I hope that the success, the things that were achieved a year ago and the players we have coming back will be enough to bring people out early," KU coach Brandon Schneider said recently. Come check us out. Come out to some early home games, come watch us play Texas A&M;, which is a marquee non-conference game for us. And if you like what you see, buy season tickets. It's cheaper than a nice dinner."
The Jayhawks return nearly everyone from last year's team that reached the second round of the NCAA Tournament, including preseason all-Big 12 picks Holly Kersgieter (first team), Zakiyah Franklin and Taiyanna Jackson (honorable mention).
The last time that trio and their teammates were on the court, KU went toe to toe with perennial powerhouse Stanford for a half before falling.
The Jayhawks will open against Jacksonville at 7 p.m. Wednesday night, the start of a stretch of three consecutive home games to open the season before they head to California for the Saint Mary's Thanksgiving Classic Nov. 25-30.
While this team is proud of what it did last season to get the program back on the right track, they're not satisfied or planning to stop there. If anything, they believe they're representing more than just themselves and playing for the pride and past of the KU women's program fuels them every day.
"There were plenty of girls who came before, who worked just as hard and it just didn't connect for them," Kersgieter said. "You feel for them. But, at the same time, they're a part of it and they helped build it. And we are finally here."
Now in his eighth season in charge of the KU women's program, Schneider is hoping to use last season's success to get closer to the vision he had for the program when he took over after successful stints at Emporia State and Stephen F. Austin.
"I had a president at Emporia State years ago who said that our program had developed a love affair with the community and that's the reason why we drew so well," Schneider said. "That's what we've tried to build here.
"People are going to come watch our men play, but it's a tough ticket and it will always be a tough ticket. On the women's side, we have to be easy to support, demonstrating that we're the type of (team) that people want to come out and be there for."
Through last year's success, which included a stretch of seven consecutive conference wins in January and February, along with the team's academic excellence and track record of giving back to the community, Schneider believes the Jayhawks are well on their way to taking the next step.
"I think they're all pretty good selling points," Schneider said. "We have a lot of veterans that are back and they all had really good summers. They're all really motivated and we're just trying to mesh and gel as much as we can this time of year."
After years of being picked to finish last in the Big 12's preseason coaches poll, the Jayhawks were picked to finish fifth in this year's poll.
"Being picked fifth is better than 10th," Schneider said. "But I think our players have aspirations to finish better than what other people maybe think we might."