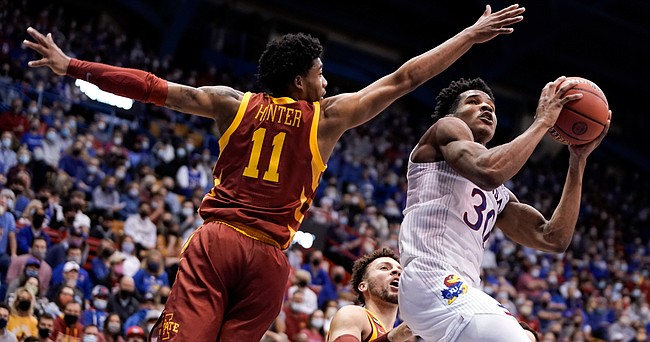 Iowa State transfer Tyrese Hunter announced Friday afternoon that he was joining Chris Beard's team in Austin, Texas next season. Hunter, who was a star at ISU during his freshman season in 2021-22, had Kansas on his list of six finalists.
Joining KU on his list of finalists were: Tennessee, Louisville, Gonzaga, Texas and Purdue.
Hunter's move to Texas had seemed inevitable for the past week, with several analysts and insiders predicting that the Longhorns would land the talented guard.
Regarded by some as the top player to enter the transfer portal this offseason, Hunter figures to be a big addition to the Texas lineup.
As a true freshman with the Cyclones last season, the 6-foot, 178-pound defensive menace from Racine, Wisconsin, averaged 11 points, 3.5 rebounds, 4.9 assists and 2.0 steals per game in 35 games last season.
His 71 steals ranked in the top five for a freshman in the history of the Big 12 Conference. And he averaged 32 minutes per game while shooting 39.1% from the floor, 27.4% from 3-point range and 68.7% at the free throw line.
A four-star prospect ranked No. 35 nationally in the Class of 2021, Hunter had offers from a couple dozen big time programs, including Arizona State, Creighton, Florida, Georgia, Louisville, Marquette, Miami (Fla.), Minnesota, Northwestern, Texas A&M; and Texas Tech.
With Texas Tech transfer Kevin McCullar Jr. committing to play at KU if he pulls out of the NBA draft, the Jayhawks would still need another domino to fall to make room for an additional player.
Christian Braun's decision to stay in the draft opened up one spot, but if that goes to McCullar, as many expect it will, someone else would have to leave to create another opening.
Jalen Wilson is still deciding whether to stay in the draft or return to Kansas for the 2022-23 season and he and McCullar have until next Wednesday night to pull their names out of the draft pool in order to retain their college eligibility.