For a decent chunk of his youth basketball career, it looked as if Kevin McCullar Jr. might be destined to be a point guard.
He played some point at Wagner High School in San Antonio, but moved off the ball because his team needed him to play other positions.

Still, his point guard skills grew and served him well, both throughout the remainder of his high school career and at Texas Tech, where he battled injuries and became a two-time honorable mention all-Big 12 performer before deciding to transfer this offseason.
With McCullar potentially on the brink of coming to Kansas for the 2022-23 season, the idea of him playing a little point guard again could be back in play.
Before we go any further, it's important to emphasize that Bill Self's Jayhawks do not need a primary point guard.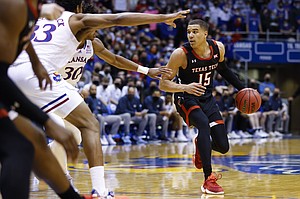 Throughout the past two years — and particularly last season — Dajuan Harris Jr. showed that he is this program's point guard. Harris' minutes and production demonstrated that he is more than capable of running the show. Beyond that, Harris, who will be a fourth-year junior, is slated to return as one of the Jayhawks' primary leaders next season and he is the lone player on the entire roster who can be plugged into a specific position in the starting lineup at this point in the offseason.
History has shown, however, that Self loves to have more than one point guard on the floor as often as possible. And even though McCullar stands 6-foot-6 and does not look the part of a prototypical point guard, it's possible that he could fill that secondary PG role to perfection if he winds up coming to Kansas.
McCullar already has committed to transfer to KU if he returns to college for the 2022-23 season. And he has until Wednesday night to remove his name from the NBA draft pool. If he does that, he'll be headed to KU and the projected lineups for next season's squad can comfortably start to plug him into the equation.
Because of his size, most will put him at the 3. Because of his rebounding ability and athleticism, some might even put him at the 4. That will be especially popular if KU's Jalen Wilson elects to stay in the draft.
The reality of it all is that McCullar will be used wherever he is needed. But the former Red Raider has point guard skills and it could be one of the more underrated parts of his game.
"Him being taller in high school kind of put him in the position of needing to play the 3 or the 4," Wagner High coach Rodney Clark recently told the Journal-World. "But he ran point sometimes, too, and he was really good at it."
Clark said McCullar learned the feel of the game at an early age and came to him more prepared than most to see the entire game and the whole court.
"He has very, very good vision," Clark said. "His court awareness and basketball IQ is real high. And just his unselfishness to get everybody involved and to just make winning plays (is solid). If you're a point guard, those are some of the major things you have to have, and he had all those."
Clark noted that there were some games when he asked McCullar to play the point almost exclusively. Whether it was a matchup move or to take pressure off of his other guards, Clark said McCullar was always willing to do and handle whatever was asked of him.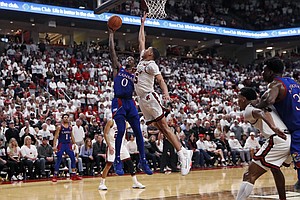 The way Clark ran his program was similar to how Self likes to play at Kansas.
"For the most part, with how we played, I just hard guards and not any specific positions," Clark said.
That, the high school coach said, is one of the biggest reasons he thinks Kansas and McCullar would be a perfect pairing.
"I think it's a good fit," Clark said. "I think with how they play, Self likes the bigger guards who can play defense and Kevin for sure can do that. I think he fits pretty good with what they do."
The defensive aspect of McCullar's game is what he's best known for, and Clark said that came by necessity when he arrived at Texas Tech.
After picking the Red Raiders over Louisville, Houston, Virginia Tech and others, he quickly found that playing time was not automatic. After redshirting the 2018-19 season, he managed to average 18.6 minutes per game in 29 games and six starts during the 2019-20 season. The biggest reason for those minutes was his willingness to play defense.
Clark, who is into his third decade of high school coaching in Texas, compared McCullar's freshman season to former KU guard Marcus Garrett's freshman season.
"He always saw, 'OK, I know I have to do this to play,'" Clark said. "So those first couple of years he was always the defensive guy."
Like Garrett, who also came from a demanding prep program, committing to defense in college was not difficult for McCullar.
"When he came to me, he was playing defense," Clark said. "He played hard already. But he didn't have a choice either. Everybody plays defense over here. That's our main thing."
That, too, makes Clark believe that McCullar and Kansas will be a good fit for each other if the connection in fact happens.
"When I got him, he already had that stuff," Clark said of McCullar's defensive mindset and unselfish nature on the offensive end. "I think just playing a lot and others actually teaching him how to feel and play the game helped him with that. The people that were around him before me actually were teaching him how to read defenses and to understand the right plays to make instead of worrying about just one thing on offense. I think it would probably be a good decision to go back (to school for) one more (season). I think his stock will rise a little bit. And it'll be real fun to watch how it goes."