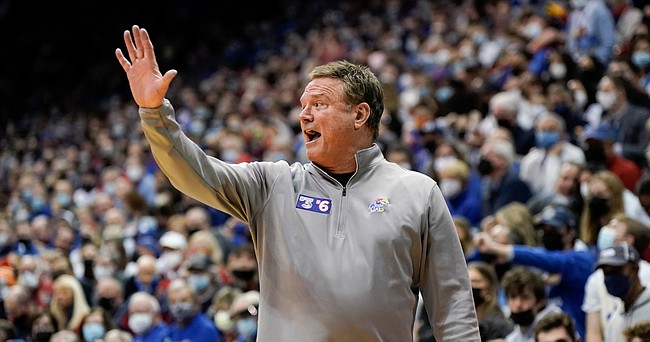 As the Kansas men's basketball program awaits NBA draft decisions from Christian Braun and Jalen Wilson, KU coach Bill Self and his staff continue to work on contingency plans to make sure they're ready for any scenario.
Braun and Wilson have until June 1 to decide to stay in the draft or pull their names out of the pool and return to Kansas for another run.
Most analysts and people close to the program believe that Braun is staying in the draft. Wilson is viewed as more of a toss-up. Either way, Self and company won't know for sure how many roster spots they need to fill until those final decisions are made.
Add to that the challenges and opportunities brought about by the changing landscape of college athletics as a whole, and it's easy to see why Self referred to the current state of roster construction in college athletics as "an inexact science."
"I think we're all very uncomfortable right now," Self said on last week's broadcast of the NBA combine scrimmages on ESPN. "We really don't know how it's all going to play out over time."
He added: "I think the portal and (name, image and likeness) is making everything a little bit more difficult. We could have anywhere from 10 to 13 on scholarship, and the guys in the portal are (likely) going to wait and see what the guys on our team are going to do before they make a decision on what they want to do. … It's a different time than what it's ever been."
That's not to say it's all bad.
Self has long been a fan of players being able to talk with scouts and agents about their NBA draft stock so they can make the best decisions possible for their careers. And although he's against the wild, wild west nature of the NIL craze, he does like that athletes can get paid and believes NIL opportunities can be good for his players and the sport in general.
Texas Tech transfer Kevin McCullar Jr. has said he'll come to KU if he returns to school. Iowa State point guard Tyrese Hunter has shown interest in Kansas, along with Texas and others. And Texas guard Courtney Ramey has been rumored to be interested in Kansas if the Jayhawks have a spot open at the end of all of this.
Clarity should come a little more each day leading up to June 1. But until then — and in future years, as well — putting together a full roster each offseason will be as much about winning the waiting game as it is any recruiting battles.
"Five years from now, we may look back and say, 'Yeah, we had rough moments, but it turned out to be much better what we thought,'" Self said. "But right now, there's so much uncertainty out there."