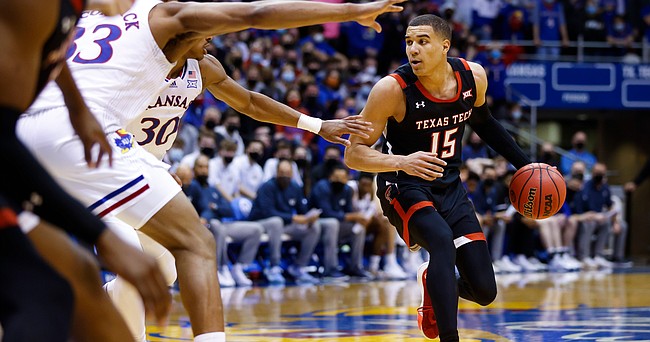 Although he plans to continue the process of testing his NBA draft stock through the end of the month, former Texas Tech wing Kevin McCullar Jr. revealed on Thursday night that if he returns to college it will be at Kansas.
That news came in a tweet sent by McCullar around 7 p.m. Thursday night that began with a heartfelt thank you to Texas Tech for his time as a Red Raider.
It then quickly shifted to his plans to attend Kansas, which he picked over Gonzaga.
"As I look to the next chapter of my career, if I decide to withdraw from the NBA draft, I am thrilled to say that I will be playing for Kansas and coach (Bill) Self," McCullar wrote.
A 6-foot-6, 210-pound, all-conference-type guard, McCullar averaged 10 points, 5 rebounds and 3 assists per game in 29 games for the Red Raiders last season. He ranked second on the team in total assists and steals and also shot 31% from 3-point range. He played for four seasons at Texas Tech, redshirting as a true freshman.
Known as a stat-stuffer who leads with his defense, McCullar earned honorable mention all-Big 12 nods in each of the past two seasons and also was a Naismith Defensive Player of the Year semifinalists during the 2021-22 season.
ESPN.com ranks McCullar as the ninth best transfer currently available in the transfer portal, dubbing him "an elite defender."
McCullar recently attended the NBA's G League Elite Camp but was not invited to stick around for the combine. In order to have room for McCullar, KU would need either Christian Braun or Jalen Wilson to decide to stay in the NBA draft instead of returning to school for the 2022-23 season.
All three players have until June 1 to withdraw their names from the draft pool in order to retain their college eligibility.
"At this stage of my life, KU offers me an opportunity to continue to improve my game while still being close to my family," wrote McCullar, who hails from San Antonio. "I am extremely thankful and excited for this opportunity, to represent such a historic basketball program. It's an honor of a lifetime."