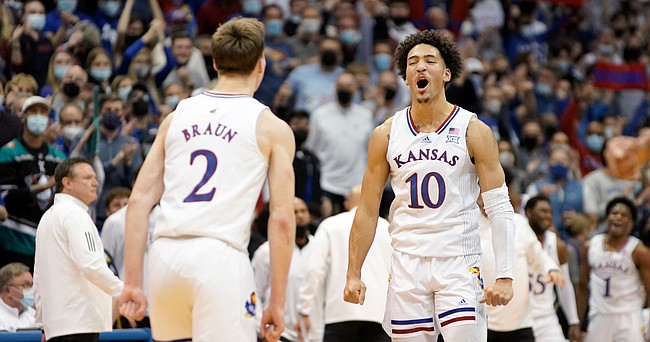 After a day of measurements and skills tests, Kansas basketball players Christian Braun and Jalen Wilson took part in a pair of scrimmages at the NBA combine in Chicago on Thursday.
There to watch them, among dozens of scouts and NBA executives, was KU coach Bill Self, who joined ESPN's broadcast during both scrimmages featuring the national champion Jayhawks.
KU All-American Ochai Agbaji is also in Chicago this week, but Agbaji, who is projected as a first-round pick by most draft analysts, elected to sit out of the scrimmages as a precautionary measure.
Unlike most times when Self has been around that trio, he was not there to coach on Thursday.
"I don't have a role," Self said while Braun scrimmaged. "I'm here as a fan. I'm here to support, let them know that we care and I think that's the way the majority of the coaches feel. I'm here hoping they make every shot and whatever happens happens."
It remains to be seen what the performances and Braun and Wilson will do for their draft stock, but Self said on the broadcast that he fully encouraged them to go all-in while in the Windy City.
"You've got to go both feet in," Self said. "You can't go in timid and expect to perform. You've got to go for the throat."
Wilson, who reached this stage by being one of seven standout performers at the G League Elite Camp earlier in the week, finished Thursday's scrimmage with 10 points, six rebounds and two assists in 10 minutes of action. He shot 4-of-11 from the floor and misfired on all four 3-point attempts.
Wilson's team lost 100-81 on Thursday.
"I thought he played well," Self said of Wilson's showing. "He just (did) what he does, just made some basketball plays."
Asked what advice he gave Wilson heading into Thursday's scrimmage, Self rattled off a to-do list that resembled what Wilson did to help guide the Jayhawks to the 2022 national title.
"What all kids need to do is do what they do and don't try to impress people and get out of what they do best," Self said. "Jalen should rebound it, he should push it, he should be a ball mover, he should shoot every time he's open but he doesn't have to force it to get a shot. He should be aggressive on every catch and try to force help. If he does that, which I think he's done so far, I think he'll have a great combine."
As for the advice he gave Braun before his scrimmage, Self said that was simple.
"I told (him) just go kill it," Self said. "And he said, 'I definitely will.' That's kind of Christian."
"This isn't the easiest setting to look good in," Self added. "You want to play the right way, but sometimes when you play the right way the ball doesn't always come back to you."
Braun started and finished with six points in 25 minutes on 2-of-9 shooting. He added seven rebounds, six assists and four steals to add some juice to his day.
Self said he talked to Agbaji on Thursday about the workouts he did this week and asked him to compare them to those that he went through at Kansas.
"He said there were some differences," Self said. "Primarily because so much of the NBA stuff is based on 1-on-0 or just being able to get open off actions and playing off different tempos and stuff like that. It's not stuff that we don't work on, but there's much more of an emphasis on different things than we can work on because of our limited time."
While the combine performances of the Jayhawks he coached was out of his hands, Self said he always has treated the combine as an educational opportunity for him, as well.
"I can learn from what people in the NBA and the trainers do and better implement it with our guys," he said.
While that can help future Jayhawks and Kansas teams to come, Self said the current group just needs to spend the rest of the week working on playing hard and playing to their strengths.
"There's no way they can perfect the NBA craft in the two months since they've left us," Self said. "They've got to be good at what they know."
Braun and Wilson are both slated to scrimmage again on Friday.