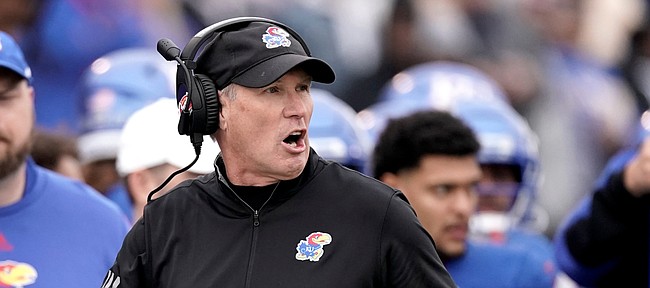 The NCAA's Division I Council on Wednesday voted to remove the annual signing and initial counter limits that have prevented many FBS schools from having the maximum of 85 players on scholarship each season.
That move, which will go into effect on June 1 and initially last two years, should significantly help Kansas, which has battled significant roster turnover in recent years as it has shuffled through coaches and has not been adequately able to replace the players who have left.
"Some schools hadn't given out all their scholarships and felt constrained by the annual limit," West Virginia athletic director Shane Lyons, the chairman of the Division I Council, said in a statement. "This temporary change provides schools more flexibility and adds opportunities for incoming and current student-athletes to receive aid."
The NCAA previously allowed Division I schools to offer a maximum of 25 scholarships (or counters) per recruiting class, up to 85 total, regardless of whether those scholarships are given to recent high school graduates or players who have chosen to transfer.
If more than 25 players left the team in a given year through graduation, transfer, NFL opportunities or any other reason, schools could still only add as many as 25 players. Any scholarship that was left over after a school signed 25 players went unused unless it was given to a walk-on, meaning it would not cycle out and be able to be reissued until the departing player would have exhausted his eligibility.
The NCAA temporarily increased that limit to 32 in September because of the significant number of players who, by virtue of having an extra year of eligibility granted at the start of the COVID-19 pandemic, were looking to continue playing as graduate students. The ease in which players can now transfer, following the establishment of the transfer portal in October 2018 and the decision to allow them immediate eligibility in April 2021, has also allowed for increased movement.
Now, the NCAA is allowing a school to add as many players as it needs in a given class, provided it never crosses the limit of 85 scholarships.
The 25-scholarship rule was put in place in 2011 after coaches began adding significant numbers of players each season. It never addressed the situations in which coaches were working at a deficit, however, which significantly affected Kansas.
The hirings and firings of coaches Turner Gill, Charlie Weis and David Beaty led to extreme roster turmoil for the Jayhawks. Beaty said in July 2018 that when he was hired in December 2014, Kansas had only 39 scholarship players.
By the start of Les Miles' first season as coach in 2019, that number was still only at 68 — and that number wouldn't have hit 85 until the start of this season, assuming nobody but graduates left the team.
One argument that coaches have used to gain support of abolishing the 25-player annual roster limit is player safety. If some teams are depleted at a certain position, they'll have to try to get injured players back on the field, move players from a different position or add players who are not qualified to be playing in Division I.
"We've always been real supportive of (the yearly cap) because we felt like that it had some controls to it, but we're in kind of in an uncontrollable space right now," Todd Berry, the executive director of the American Football Coaches Association, told the Associated Press earlier this month. "For the health and safety of our athletes, not being able to try to get to an 85 number at the FBS level, that's hard."
Although the waiver is designed to provide schools relief, it will likely lead to repercussions. Come June 1, there could be a spike in movement at a time when players will be reporting to their schools for summer classes and workouts. Likewise, some who have not yet found a new school — such as Arizona State wide receiver LV Buckley-Shelton or Purdue safety Marvin Grant, who took official visits to Kansas earlier this month and remain undecided — could wait for openings elsewhere.
Longer-term, coaches could be tempted to not renew scholarships, which are technically granted on an annual basis, and sign a bloated class of freshmen and transfers to replace them.
The NCAA said Wednesday its football oversight committee "will collect and review recruiting data during these two years, as well as monitor transfer trends, to inform potential future rule changes."
Lance Leipold, who is entering his second season as Kansas' coach, formalized the addition of 14 players in February, eight of whom were transfers. As of Wednesday afternoon, the Jayhawks, who continue to host junior college players on official visits, had received commitments from four other players who intend to transfer to the school ahead of next season.