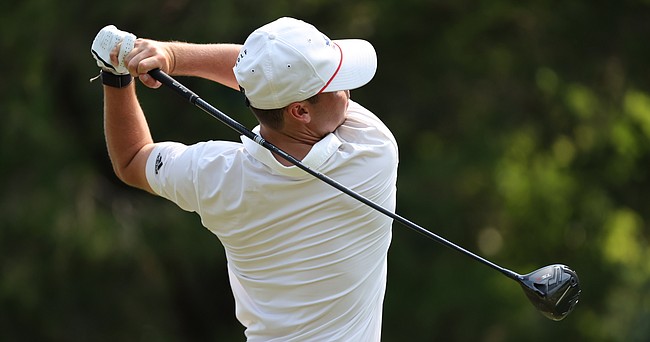 The Kansas men's golf team improved by two strokes at Day 2 of the NCAA regional in Bryan, Texas, and finished Tuesday one shot out of fifth place heading into Wednesday's final round.
The top five teams after Wednesday's round will advance to NCAA nationals later this month.
After a 1-over team score at Monday's opening round at the Traditions Golf Club, KU shot a 1-under 287 on Tuesday to move to even par for the tournament and into sole possession of sixth place.
The Jayhawks trail Oregon State by one stroke for the fifth and final qualifying spot for nationals. The Jayhawks are three strokes ahead of seventh-place Tennessee and five in front of eighth-place SMU.
"It will be an absolute dog fight on Wednesday," KU coach Jamie Bermel told the Journal-World after the completion of Tuesday's round. "I think the key for Wednesday is each player needs to take care of themselves and their own game. We need all five guys in the round."
Three Jayhawks shot under par on Tuesday, with William Duquette shooting a 1-under 71 to move into a tie for ninth place in the individual standings and senior Harry Hillier shooting a 71 to move into a tie for 17th place.
Sophomore Davis Cooper, who was subbed in for senior Callum Bruce, who is battling an illness, also shot a 1-under 71, playing the final 16 holes at 2-under par after carding a bogey on the first hole of the day.
Bermel said Bruce, who shot a 7-over 79 on Day 1, was feeling better but not well enough to be counted on for 18 holes in the Texas heat.
KU's Round 3 lineup will consist of Hillier in the No. 1 spot, sophomore Luke Kluver in the No. 2 spot, senior Ben Sigel in the No. 3 spot, Duquette at No. 4 and Cooper at No. 5.
Sigel shot a 2-over 74 with a bogey on hole No. 17 on Tuesday. And Kluver shot a 5-over 77, with blowout holes at No. 9 and No. 18. After recording four birdies and two bogeys through eight holes, Kluver took an 8 on No. 9 for a quadruple bogey on the hole and a 38 on the front nine.
He followed that up with eight straight pars on the back nine before carding a triple-bogey 7 on No. 18. As a team, KU carded 16 birdies and just nine bogeys on Tuesday. But those bigger numbers, which included a double bogey by both Sigel and Hillier, kept the Jayhawks from finishing inside the top five heading into Wednesday's final round.
None of that matters now, though, and Bermel said that was his message to the team after Tuesday's round.
"I think if we go out there and play for each other and have great effort and focus, everything else will fall in place," Bermel said. "The key is to have enough maturity, grit and grind and to save every stroke possible. We can't wait for the opportunity."
Team scores through 2 rounds:
1 – Arizona, -13 (276-287 — 563)
2 – Georgia, -12 (279-285 — 564)
3 – Texas A&M;, -10 (280-286 — 566)
4 – Pepperdine, -8 (279-289 — 568)
5 – Oregon State, -1 (285-290 — 575)
6 – Kansas, E (289-287 — 576)
7 – Tennessee, +3 (295-284 — 579)
8 – SMU, +5 (288-293 — 581)
9 – Michigan State, +12 (293-295 — 588)
10 – Colorado State, +20 (293-303 — 596)
11 – Boise State, +21 (296-301 — 597)
12 – SE Louisiana, +26 (306-296 — 602)
13 – Texas Southern, +52 (312-316 — 628)