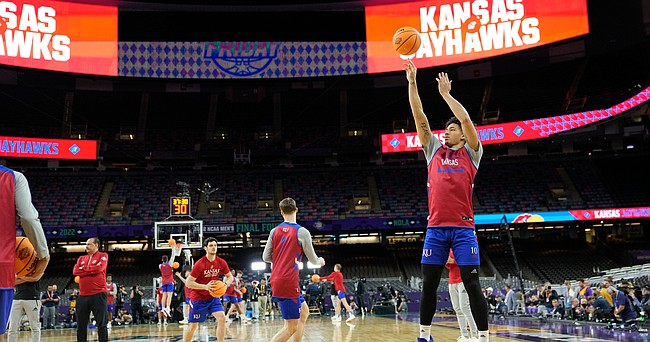 Kansas forward Jalen Wilson picked up where he left off during the Jayhawks' run to the national championship, filling up the stat sheet in his first scrimmage at the NBA's G League Elite Camp on Monday in Chicago.
Wilson led all scorers with 18 points — on 6-of-10 shooting from the floor and 4-of-6 from 3-point range — and added six rebounds and three assists in 18:22 of game time.
Wilson's strong showing from 3-point range was by far the most important part of Monday's showing. He showed off his range and also looked smooth and on balance with each of his attempts.
The 6-foot-8 draft hopeful, who is still deciding whether to turn pro or return for Kansas for his junior season, also appeared lighter, leaner and more fluid with his movements during the scrimmage, which his team won 97-81.
Wilson, who went through drills and measurements while meeting with NBA and G League representatives, will play again Tuesday afternoon.
In the second game Monday, Wilson teammate David McCormack was on the losing end of a 90-87 scrimmage and he finished with nine points and three rebounds in just over 18 minutes on the court.
McCormack teamed with North Carolina big man Brady Manek in the loss and Manek said after the game that he enjoyed seeing McCormack again. It was the first time the two had met up since McCormack helped lead the Jayhawks past Manek and the North Carolina Tar Heels for the national title.
"David's a really good dude," Manek told sideline reporter Gianna Hearn after the live stream broadcast of the event. "Both of us were on the biggest stage you could be on in college and it was a lot of fun. It's really cool to get to know him out here and get to know the kind of person he is."
One other name of note was on the winning side in Game 2. Former Texas Tech wing Kevin McCullar Jr. scored four points and grabbed seven rebounds with one assist and two steals in Team 3's victory over Manek and McCormack.
McCullar played 17:05 for Team 4 and shot 1-of-7 from the floor.
The former Red Raider who also is in the transfer portal has said that, while his primary goal is to reach the NBA, he would choose between Kansas and Gonzaga if he elects to return to school for another season.
Report: Tyrese Hunter to visit
According to a report from JayhawkSlant.com's Shay Wildeboor, former Iowa State point guard Tyrese Hunter is slated to visit Kansas this week, starting Tuesday.
Last month, Hunter narrowed his transfer options to a final six, with KU, Tennessee, Louisville, Gonzaga, Texas and Purdue all still alive for his services.
As a true freshman with the Cyclones last season, the 6-foot, 178-pound defensive menace from Racine, Wisconsin, averaged 11 points, 3.5 rebounds, 4.9 assists and 2.0 steals per game in 35 games last season.
His 71 steals ranked in the top five for a freshman in the history of the Big 12 Conference. And he averaged 32 minutes per game while shooting 39.1% from the floor, 27.4% from 3-point range and 68.7% at the free throw line.
Roundball Classic nearing
Brian Hanni's 14th annual Rock Chalk Roundball Classic is a little more than three weeks away and tickets are now on sale.
This year's event, which will run June 9-11, will feature the annual game on June 9, a VIP dinner on June 10 and the Roundbowl Classic bowling event on from noon to 2 p.m. on June 11.
Tickets can be purchased at 23rd Street Brewery in Lawrence, at Johnny's Tavern on Fairlawn Road in Topeka and at Johnny's Tavern on Ridgeview in Prairie Village and at the Power & Light District for those in the Kansas City area.
As usual, this year's event will feature five area children battling pediatric cancer. To date, the event has raised more than $770,000, with 103 former Jayhawks contributing in one way or another throughout the years.
For more information, or to donate, check out rockchalkroundballclassic.com.