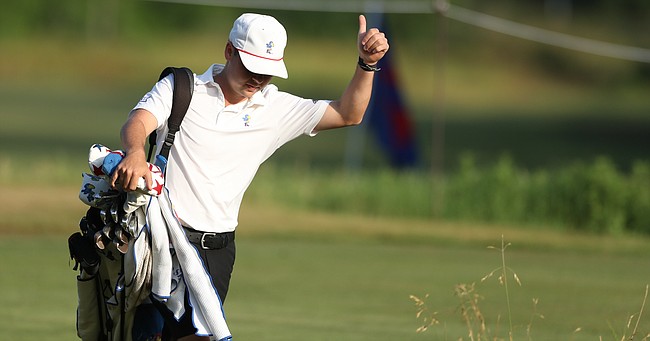 The Kansas men's golf team shot a team score of 1-over par in the opening round of the NCAA Tournament at the 13-team Texas A&M; regional in Bryan, Texas on Monday.
Playing at The Traditions Golf Club, the Jayhawks finished the day 13 shots behind Round 1 leader Arizona, but just four strokes behind Oregon State in fifth place. The top five finishers at this week's event will advance to nationals. The Jayhawks will enter Tuesday's second round four shots clear of the two teams tied for eighth behind them.
"We played solid for 17 holes and struggled a bit on our last hole," KU coach Jamie Bermel told the Journal-World after Monday's round. "The good news is, we are still in the mix. You can't win or qualify on the first day, but you can really put yourself in a bad spot."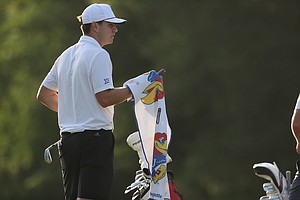 Behind four players who shot 2-over or better, the Jayhawks avoided that fate on the par-72 golf course that plays 7,146 yards in length.
Playing in the team's No. 5 spot, sophomore William Duquette led the Jayhawks with a 2-under 70. He shot 1-over on the front side and then 3-under on the back nine to get to 70 for the day. He sits in a tie for 11th in the individual standings.
"Duquette was good today," Bermel said. "He gave us a much-needed good round."
Senior Harry Hillier shot a 72 to finish even on the day. His round featured five birdies, which helped offset a triple-bogey 7 on the ninth hole. Sophomore Luke Kluver fired a 1-over 73 and senior Ben Sigel shot a 74 — even on the front and 2-over on the back.
KU's fifth score on Monday came from senior Callum Bruce, who Bermel said has been battling an illness during the past few days. The senior transfer shot a 7-over 79, which included a triple-bogey at the first hole and a double-bogey on No. 9.
Bermel said he will substitute sophomore Davis Cooper in for Bruce on Tuesday for the second of KU's three rounds at the event.
"Davis is ready to go and I know he will do well," Bermel said. "We have all the confidence in the world in him. We all just need to finish stronger on Tuesday and we will be fine. We have a lot of golf left."
Team standings through Round 1:
1 – Arizona, -12 (276)
2 – Pepperdine, -9 (279)
3 – Texas A&M;, -8 (280)
4 – Georgia, -7 (281)
5 – Oregon State, -3 (285)
6 – SMU, E (288)
7 – Kansas, +1 (289)
T8 – Colorado State, +5 (293)
T8 – Michigan State, +5 (293)
10 – Tennessee, +7 (295)
11 – Boise State, +8 (296)
12 – Southeast Louisiana, +18 (306)
13 – Texas Southern, +24 (312)