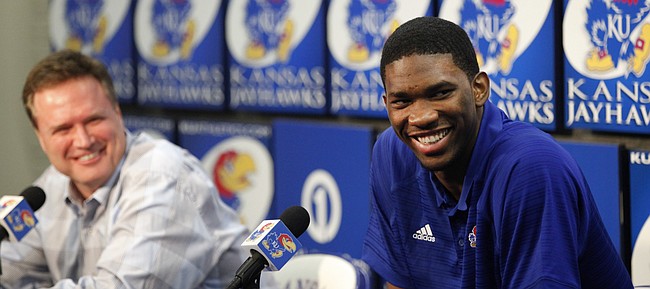 Admittedly disappointed by former Jayhawk Joel Embiid finishing second in the NBA's MVP voting for the second year in a row, Kansas coach Bill Self said this week that he expected the 7-foot star to have "more opportunities to win it moving forward."
That prediction came during Self's mid-week appearance on an ESPN radio show hosted by Keyshawn Johnson, Jay Williams and Max Kellerman.
Although news leaked earlier in the week that Embiid had not won the league's top individual honor, it became official on Wednesday, when the voting was released and Denver center Nikola Jokic officially was crowned the league's MVP for the second consecutive season.
Jokic, who became the first player in NBA history to record 2,000 points, 1,000 rebounds and 500 assists in the same season, is the 13th player all-time to win the award back-to-back. Self said he had no issue with the Nuggets star taking home the hardware.
"Jokic deserved it," Self said on the show. "He had an unbelievable year, but still though, to me, when you think about the best five players in the world, Joel Embiid is definitely one of them."
After campaigning for the award a year ago, Embiid left his fate in the voters' hands this time around, choosing to stay mostly quiet about it until the results surfaced this week.
Following a Game 5 playoff loss to Miami on Tuesday night, the Cameroonian big man said he was not mad about the results nor worried about what might happen in the future.
"Obviously, congrats to Nikola," he told reporters. "He deserved it. He had an amazing season. There's no right or wrong. There was a lot of candidates. It could have gone either way. … That's two years in a row I put myself in that position. It didn't happen. It is almost like, at this point, it is whatever. Whatever happens, happens."
Jokic finished with 875 points and 65 first-place votes. Embiid finished with 706 points and 26 first-place votes. Milwaukee star Giannis Antetokounmpo finished third with 595 points and nine first-place votes. Those were the only three players who received first-place votes this season.
Even with Embiid's mild-mannered acceptance of the results, Self said having an MVP come from Kansas would have been great for the KU program.
"I don't talk to Jo all the time," Self said. "But we talk enough to know that would have meant a lot to him and certainly would have meant a lot to our school to promote that the MVP of the league is from Kansas."
Embiid played just one season at KU, appearing in 28 games during the 2013-14 season, when he averaged 11.2 points and 8.1 rebounds in 23.1 minutes per game. He missed the postseason because of injuries and went on to become the No. 3 overall pick in the 2014 NBA draft.
As he has said before, Self reiterated on the radio show that the Kansas coaching staff knew what it had when they landed Embiid.
"I told (KU assistant) Norm (Roberts), 'He'll be the best player we'll ever coach,'" Self said on ESPN Radio. "Jo has as good a feel as (anybody we've had). He picks up things so quick. I actually said after the first day of practice when he told me, 'Coach, I'm not good enough. I'm going to have to redshirt.' I said, 'Well, you're going to be the No. 1 pick in the draft, so we probably don't redshirt those guys.' He was just different. He's competitive. We are not surprised at all with his success. I didn't know he'd be arguably the best big man in the world (after) missing two years of pro basketball (because of injury). But he is."
Now in his eighth season with the Philadelphia 76ers, the former No. 3 overall pick in the 2014 draft finished the season as the league's scoring leader, averaging 30.6 points per game to go along with 11.7 rebounds in a career-best 68 regular season games.