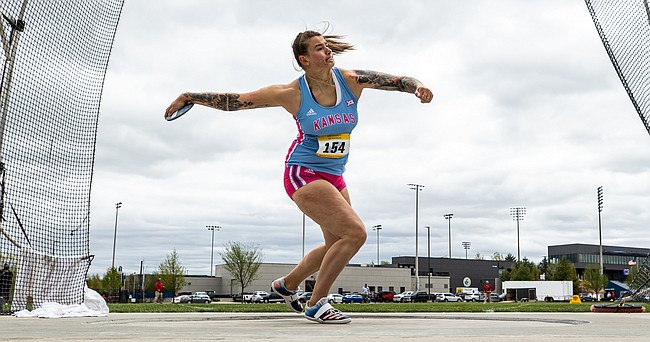 Alexandra Emilianov is not shy about what she expects to take home from the Big 12's outdoor track and field championships this weekend.
It's the same thing Kansas' record-holding discus thrower, who is from Moldova, expected to capture a year ago.
"This year, totally, third ring coming to me," she said.
Emilianov, the Big 12 champion as a freshman and a sophomore, will get a final chance to capture that third conference championship Sunday afternoon at Texas Tech.
The fifth-year senior, who represented Moldova at the Tokyo Olympics last summer, should also be one of the top performers at the NCAA's West Region meet at Arkansas in two weeks. That would give her a chance to win the national title at Oregon in early June.
If she were to do so, she would leave Kansas the same way she arrived — as a champion. Emilianov won the discus at the U20 European Championships in Grosseto, Italy, in June 2017 with a throw of 56.38 meters (185 feet), then joined the Jayhawks the next month.
"That's what we want her to do," coach Stanley Redwine said. "That's what she's prepared to do. Our goal is to help her fulfill her goals and her expectations."
Emilianov holds school records in the discus, which she threw 60.26 meters (197-8) at the Rock Chalk Classic in May 2021, and both shot put records — 16.8 meters (55-1 1/2) indoors in December and 17.25 meters (56-7 1/4) outdoors at the Big 12 championships a year ago.
She'll again compete in both events this weekend, though she's quick to acknowledge she enjoys throwing the discus more despite her father, Ivan Emilianov, being a three-time Olympian in the shot put.
He got her started in throwing when she was 11 and looking for a new sport. Her volleyball coach had to give up coaching because she was pregnant, so Emilianov's father took her to one of his practices.
"He just told me, 'If you like it, just say it,'" she said. "'If you don't like it, you never have to come, but just try it out.'"
She did, and success soon followed. She won a gold medal in the discus at the U18 world championships in 2015, when she was 15, and claimed gold medals in the discus and shot put at the U18 European Championships in 2016.
Her performances caught the eye of Kansas' throwing coach, Andy Kokhanosvky, who soon formed a bond with Emilianov. Kokhanosvky, who threw the discus for the Soviet Union and Ukraine national teams from 1984-93, met Ivan Emilianov at the Olympics in 2014 and the two reconnected during the recruiting process.
"It's a big thing for us because we speak the same language," Kokhanosvky said. "It's not like if you're speaking to the American coaches. It's hard because you don't get the right answers and you get a really general conversation. With him, we can go into details with how I would train her and how I would do with how she's gonna compete for her home country. It was an important thing for him."
Emilianov won the shot put in her first indoor meet, the Jayhawk Classic, in January 2018 with a throw of 15.55 meters (51-1/4). In her first outdoor meet, the Sun Angel Classic at Arizona State in April 2018, she threw the discus 55.58 meters (182-4), good for second all time at Kansas.
She won the Big 12 title in the discus as a freshman with a throw of 60.24 meters (197-8), then a school record, then threw it 58.01 meters (190-4) as a sophomore to repeat as champion. The cancellation of the meet because of the pandemic prevented Emilianov from winning a third title as a junior, and last year, she finished second with a throw of 55.422 meters (181-10) while throwing from a wet circle.
Those performances still allowed Emilianov to reach the NCAA outdoor track and championships each season it was held, with her best throw, 58.9 meters (193-3) in 2019, earning fourth.
Although she finished 30th out of 31 competitors in the discus at the Olympics in July — she reached 54.57 meters (159-1/4), then had two fouls — she has won it in three of the five events she has entered this season, including a throw of 60.51 meters (198-6) at Baylor's Michael Johnson Invitational on April 22 that was the second-best in school history.
"This season was probably the best season so far because I'm constantly basically growing from one competition to another," Emilianov said. "I feel like I'm really motivated this year and I feel like I will do so much better."
Emilianov, who is studying information business technology, hopes to some day have a chance to work at Google. She is applying to Kansas' graduate school and, should she get in, will be invited by Redwine and Kokhanovsky to serve as a volunteer assistant coach. That will allow her to keep training with them up to the Paris Olympics in 2024.
First, though, is the final month of this season. Emilianov wants to use this weekend's success to fuel her goal of winning the NCAA title. Kokhanovsky said he has a plan that should allow her to do so, and if she does, Emilianov would win one final memento from her days at Kansas.
"I think this year, I am ready for it," Emilianov said. "I'm passionate about it again. I really want to get it, so I will not give up until I get my ring."