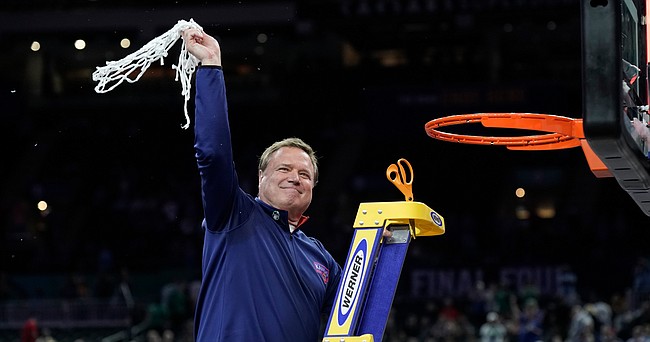 Kansas basketball coach Bill Self and several members of his coaching staff, along with others from the KU athletic department, were in New York City this week for Self to receive the Winged Foot Award from The New York Athletic Club.
Tuesday night, Self joined South Carolina women's basketball coach Dawn Staley in being the honored guests at a reception for this year's recipients.
Given annually to the Division I college coach who leads the men and women's national champions, the Winged Foot Award is in its 26th year of existence. Self also won the award in 2008.
This year, at the reception, he talked about the 2021-22 Jayhawks being "destined to win a national championship."
Kansas, of course, did just that on April 4 in New Orleans, coming back from a 15-point halftime deficit to beat North Carolina in the national title game. Prior to that, Kansas beat Villanova in New Orleans, Providence and Miami in Chicago and Texas Southern and Creighton in Fort Worth, Texas.
Longtime Self assistant Norm Roberts introduced Self at Tuesday's banquet. And legendary college basketball broadcaster Billy Packer emceed the event.
Among the many things Self noted about the Jayhawks' recent run to the 2022 national title was his appreciation for the feeling of ending the season on the highest high possible.
"The wins never feel as good as the losses feel bad," Self said. "Never. Until you win on a Monday or Sunday (for the women) in April. Those wins feel better than all the losses combined felt bad."
While in New York, Self also made an appearance at ESPN studios at Pier 17 to do a radio segment on the Keyshawn, JWill and Max morning show on ESPN radio.
According to a news release announcing the award, the honor "recognizes that the coaches are the players' guides both on and off the court during a time when good role models are most important." As part of its stated mission, The New York Athletic Club notes that it takes "great pride in recognizing and commending the people who make such a difference in the lives of student athletes."
The national champion Jayhawks finished the season 34-6 and brought back to Lawrence the program's sixth national title and fourth NCAA Tournament title.
KU is expected to make an appearance at The White House in Washington D.C., at some point in the near future, but no exact date has been established for the visit, which has been a customary for champions in both college and professional sports for decades.