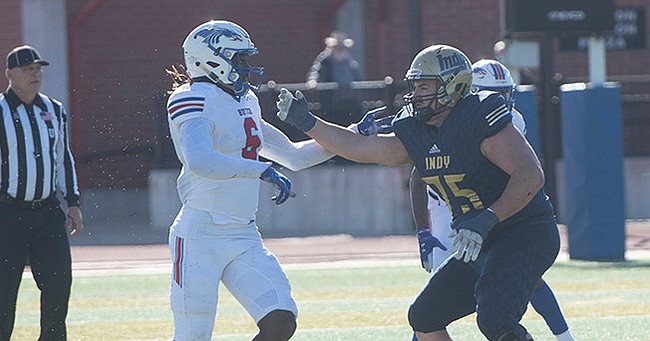 Davion Westmoreland has made the 12-hour drive between Kansas and Georgia five times, including one Monday after his official visit with the Jayhawks ended.
As it turns out, he'll be making that trip in his Dodge Challenger a bit more often.
Westmoreland, a defensive end at Hutchinson Community College, committed on Monday to play football at Kansas, becoming the fourth player who has decided to transfer to the university over the past two weeks.
"I felt like it was the right fit," Westmoreland said. "They made me feel welcome. Going out, I felt like I was already here. My parents, they liked it, too, and you know, I felt like it was the right fit. I talked to God last night and prayed about it and woke up feeling good. Yep, it went from there."
Westmoreland, who is 6-foot-3 and from Griffin, Georgia, played at 255 pounds last season but could "very easily could carry 275," according to Hutchinson coach Drew Dallas. He has three seasons of eligibility remaining, plus a redshirt year, after playing his first two for the Blue Dragons.
A two-year starter and second-team all-KJCCC player, Westmoreland had 54 tackles, including 11.5 for a loss and 6.5 sacks as a sophomore. He said he chose Kansas' scholarship offer, which he received on April 28, over those from Middle Tennessee State, Appalachian State and Troy.
Kansas has also secured commitments to transfer from Minnesota wide receiver Doug Emilien, Buffalo right tackle Deondre Doiron and Butler Community College left guard Flavio Gonzalez. They, plus Westmoreland, will join the eight players who chose to transfer to Kansas before the start of the spring semester.
Westmoreland had an opportunity to play a third season at Hutchinson and had planned to do so until he began receiving offers from FBS schools within the past several weeks. Defensive coordinator Brian Borland and defensive ends coach Taiwo Onatulo had each watched him in practice during the spring.
"He's going to be a guy that can attack the quarterback," Dallas said. "He's got a great transitional pass rush. He plays with his hands. He's explosive off the ball. He can take an edge when he needs to, but he's just strong at the point of attack and he uses his hands well, which always gives him a chance to get at the quarterback.
"I think the thing he's really gotten good at for us is he's been able to take on a tight end with ease. He does some great things against that, and he's gap sound in the run game. He does the things you've got to do against the run and can penetrate, get off the ball and create havoc in the backfield."
Westmoreland said the two-plus years at Hutchinson helped him understand more about being responsible and mature, and that although he had planned to transfer to a university closer to Georgia, he gradually felt comfortable in Kansas.
"It started out rough, you know?" Westmoreland said. "When I first got in there, it was rough, getting up early, being away from home. But this semester, I came in, woke up early, did everything right, handled my business in the classroom. I got better on the field and I was actually a leader. ... I wouldn't feel ready to leave if I didn't feel like a leader. I wanted to focus on making someone else better every day, or at least me getting better every day and being held accountable."
After the departure of Kyron Johnson, who was drafted in the sixth round by the Philadelphia Eagles earlier this month, Kansas needed help at defensive end. Among the returnees are Malcolm Lee, who started 11 games last season and will be a fifth-year senior, and Jereme Robinson, who will be a junior. Miami (Ohio) transfer Lonnie Phelps, who will be a redshirt junior, also will be in the mix to start.
Dallas said Westmoreland "played a lot of reps" at Hutchinson and expects him to do the same in the fall.
"I think he's going to come in to compete (at Kansas)," Dallas said. "If you're looking for a guy there on the D-line this time of year, it's because there's a need, and I think that was probably one of the things for Davion: 'I can go in and help fit the need and compete for a spot.' That's attractive when you're doing that at a program that's got some great momentum from how they ended last season into this offseason."
Westmoreland will be home for a little more than two weeks, then plans to join his new teammates on campus at the end of the month for the start of summer workouts.
That means another 12-plus hours in the car and another 900 miles on the odometer.
"Kansas gave me an opportunity," Westmoreland said, "and I know it's far away, but they gave me an opportunity and I want to take it and give it my all."